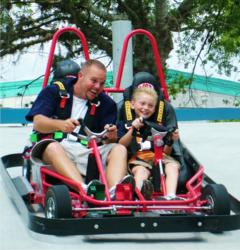 Rev up for spring with this sweet getaway to sunny Kissimmee and enjoy some local flair.
KISSIMMEE, FLORIDA (PRWEB) February 27, 2013
Seralago Hotel & Suites Maingate East has launched the Choc-Full-of-Fun Package to celebrate the opening of a new chocolate factory by the hotel. With winter fading and spring just around the corner, the package is the perfect way to put some sunshine and sweetness into an Orlando getaway.
Combining chocolate, mini-golf and rides, the package includes the following:

3-night stay in a Deluxe Double room
Chocolate Kingdom tour for two
Mini Golf tickets for two
Fun Spot arm bands for two
Complimentary breakfast for two adults at Vineyard Café each morning
The Fun Spot arm bands included in this package provides guests with unlimited access to an assortment of exciting rides at the popular Kissimmee attraction. Flying Bob's is probably the only bobsled ride you'll find in Florida. Yo-Yo lifts you high and swings you fast. Fun Spot also offers extreme go-kart tracks, the spinning Power Trip Coaster, the soaring Screamin Eagles ride, as well as bumper cars, a tilt-a-whirl, kiddie coasters and much more.
"The chocolate tour offers the perfect alternative to Walt Disney World theme parks, SeaWorld and other major Orlando attractions," said Jan Rietveld, General Manager. "Rev up for spring with this sweet getaway to sunny Kissimmee and enjoy some local flair."
About Seralago Hotel & Suites:
Seralago Hotel & Suites is a favorite family vacation destination in Kissimmee, Florida. Part of the Walt Disney World Good Neighbor Hotel program, this hotel offers comfortable amenities just minutes away from the exciting Orlando theme parks. Featuring exciting perks such as Olympic-style swimming pools, a tennis court, onsite dining and relaxing accommodations, Seralago provides everything guests need for an unforgettable vacation.