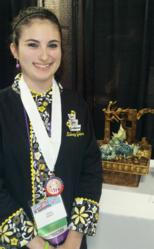 Palm Bay, FL (PRWEB) February 28, 2013
Third prize in the Masters Division of Special Techniques in the cake decorating competition at That Takes The Cake Show was given to Sidney Galpern of Simi Cakes for a sculpture of a dragon and castle made with isomalt. Galpern's own brand of isomalt, Simi Isomalt, was used to make the sculpture.
The flowers around the base of the sculpture were created with isomalt and a silicone mold that was also manufactured by Simi Cakes. The rest of the piece was hand sculpted using isomalt, airbrushed and faux painted.
Nearly 300 cakes were entered into the competition and were broken up into different divisions and styles for judging. In order to enter into the Masters Division, Galpern had to meet the criteria of: expert in sugar art, known to have mastered specific mediums and techniques. May be an author, instructor, or work in the sugar art business and has more than 120 hours of instruction.
Galpern's sculpture was entered in the Special Techniques category where it was judged on precision of techniques used, originality, creativity, skill, color, design, difficulty, number of techniques used, and overall eye appeal.
Isomalt is the popular name for Isomaltitol which is a sugar substitute made from beet sugar. Over the past twenty years chefs, sugar artists and confectioners have found that Isomalt has many advantages over sugar especially when making showpieces, cake decorations, dessert garnishes and candy. Unlike conventional sugar, isomalt is much more resistant to humidity and crystallization so decorative elements made with it have a longer shelf life and structural integrity.
Sidney Galpern of Simi Cakes is a Certified Professional Chocolatier, Cake Designer, Sugar Artist, and International Instructor. She graduated with honors from the prestigious Ecole Chocolate School of the Chocolate Arts and has the distinction as the youngest student to ever complete the program. She trained and interned with top sugar artists and chefs in New York City, Orlando, and West Palm Beach. Simi Cakes was chosen for the ABC's Extreme Makeover: Home Edition Space Coast. Galpern has taught and demonstrated sugar and cake decorating to professionals and amateurs for the last 5 years at venues such as Keiser University, ICES Convention and Days of Sharing, Culinary Schools, restaurants, at the Festival of Chocolate, at cake clubs and cake supply stores, and has judged at and sponsored the Florida ICED Cake Competition, and is a Sugar Arts Institute Founding Certified Instructor.
Galpern designs and manufactures her own line of sugar art tools as well as writing articles published in American Cake Decorating Magazine, CakeFu.com, SugarArtsInstitute.com, featured on About.com, in the Florida Today newspaper, Today in Brevard television show and the ICES Magazine. She released her first DVD for cake decorators in the fall of 2012.