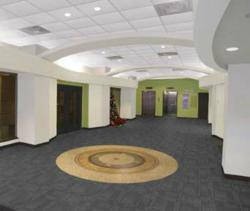 The Pittsburgh Information Technology Center is at the forefront of one of the fastest growing trends in real estate
Pittsburgh, PA (PRWEB) February 27, 2013
The Pittsburgh Information Technology Center is now offering not only some of the most sophisticated and secure data center space, but also services to highly sensitive and security-minded office space users including standalone companies and security-minded divisions of large corporations.
Companies of all sizes are now waking up to the fact that they don't simply need standard issue office space, but rather office space that offers secured environments. Environments that are secured from utility interruption, network interruption and premise security that keeps wondering eyes and feet at bay. The Pittsburgh Information Technology Center is at the forefront of one of the fastest growing trends in real estate by providing ultra-secure office environments that have the support of in-building data centers an unlimited level of provisioned bandwidth from multiple network carriers along with a 24 hour manned Control Center to support their security needs. The Pittsburgh Information Technology Center is one of the first of its kind to offer a completely secured environment to accommodate all of the above for companies that thought all they needed was "office space".
The Pittsburgh Information Technology Center's infrastructure, complete with a 1450kva generator and glycol system, has recently expanded to include:

IP CCTV
Electronic perimeter security
Electronic elevator security
24/7/365 manned control center monitoring
IP addressable temperature probes
Multiple network carries on site
Redundancy of electric and network providers
Office users that need secured environments include: all 24/7 operations, corporate call centers, litigation support companies, medical support, technology companies, disaster recovery divisions, labs and research and development companies.
"This is probably one of the most sensitive areas in real estate right now. More and more we are finding that business owners are asking for and demanding environments that provide for them the security and peace of mind that buildings like The Pittsburgh Information Technology Center can provide. They simply have too much exposure riding on their office address to look the other way. We are perfectly suited to service this technical need," said David W. Bishoff, President at E.V. Bishoff Company.
For tours and assistance please contact E.V. Bishoff Company at (412) 471-6868.
The Pittsburgh Tech Center, located in downtown Pittsburgh at 322 4th Avenue, is unmatched in offering one-stop, secure, cost-effective and convenient office space, data center and connectivity services, to meet daily business operation or disaster recovery needs. Ultra high security office and DR space, unlimited bandwidth connectivity, Sierra Data Center services, power redundancy and location make this building a truly unique one-stop center.
Founded in Columbus, Ohio in 1966 as a commercial real estate development company, the E.V. Bishoff Company (EVBCO) is a firmly established leader in redevelopment of historic central business district office buildings in Cleveland, Columbus and Pittsburgh. The family-owned company known for stellar, responsive service to its tenants boasts a nearly 100 percent retention rate of all of its properties. A rarity in commercial real estate today, EVBCO is the owner-operator. To learn more about EVBCO, visit http://www.evbco.com.