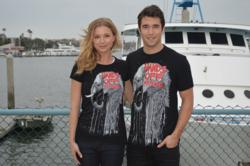 "We must do more to protect the most beloved and iconic species of our planet," said Emily VanCamp.
Washington, DC (PRWEB) February 26, 2013
Today "Revenge" actors Emily VanCamp and Josh Bowman released a Public Service Announcement (PSA) for World Wildlife Fund's (WWF) "Hands Off My Parts" initiative calling attention to illegal wildlife trade.
The PSA video can be found here for download: https://www.dropbox.com/s/yc0addb5x4lvtfm/HOMP%20VanCamp-Bowman%20PSA.mov
"Hands Off My Parts" is WWF's latest effort in the global wildlife crime campaign to raise awareness about illicit wildlife trade that has reached unprecedented levels in recent years. The effort calls on people to spread the word and sign a petition asking Thailand to shut down its ivory markets.
Over 500,000 people have signed the petition to-date and WWF officials are meeting with Thai Prime Minister Yingluck Shinawatra on Wednesday to present the petition.
Statement from Emily VanCamp: "I have always loved animals. I grew up in a rural area where I learned to love and respect the wildlife around me," said Emily VanCamp. "Now that I'm older, I'm fighting to see change on a more global level. We must do more to protect the most beloved and iconic species of our planet. By pledging to not buy products made from endangered species, we can all do our small part to ensure a future for tigers, rhinos, and elephants and the many other species threatened by wildlife crime."
Statement from Josh Bowman: "I'm honored to share the beauty of this planet with some of the most magnificent wildlife on Earth, many of which are unfortunately being killed for their parts," said Josh Bowman. "Wildlife crime is a seriously devastating issue. The criminals responsible for trafficking rare animals also smuggle drugs and even people. If you buy into illegal wildlife trade you are supporting these criminal networks, which are ruining people's lives too. Please, stand with me and fight against this. We all have a voice."
Statement from WWF's Crawford Allan: "WWF is rallying forces globally to raise public awareness and reduce trafficking in endangered species. We're grateful for the powerful voice celebrities like Emily and Josh are lending to this important cause," said Crawford Allan, WWF's illegal wildlife trade expert. "The world must take a stand to stop the illegal trade that is emptying our forests and our oceans. Supporting "Hands Off My Parts" is an empowering and simple way for anyone to be a voice for those endangered species who have no voice."
NOTES TO THE EDITOR
Photo and PSA Video for Download

Media Requests
Emily VanCamp and Josh Bowman are available for media interviews
ABOUT WORLD WILDLIFE FUND
WWF is the world's leading conservation organization, working in 100 countries for half a century. With the support of almost 5 million members worldwide, WWF is dedicated to delivering science-based solutions to preserve the diversity and abundance of life on Earth, halt the degradation of the environment and combat climate change. Visit http://www.worldwildlife.org to learn more.
###
For more information, please contact:
Jenna Bonello, World Wildlife Fund, (202) 384-9824 – cell, (202) 495-4541 – office, jenna(dot)bonello(at)wwfus(dot)org