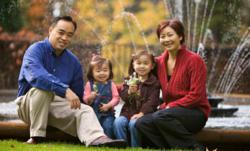 The CariScreen test makes me a better doctor by allowing me to monitor bacterial levels and prevent dental problems for my patients before they start!
Lincoln, California (PRWEB) February 28, 2013
Tooth decay is an epidemic in American children with 50% of 5th graders showing active signs of the disease. The World Health Organization says that worldwide 60–90% of school children and nearly 100% of adults have cavities. What are the long-term effects of this transmissible infection? Research is showing a strong connection between the oral bacterial imbalance and serious systemic issues like heart disease. So why is this disease so rampant, yet it is also 100% preventable? Answer: there has been no way to properly screen patients for their risk, or susceptibility to the infection before the cavity forms.
Dr. Hsu and his team were not satisfied with the excessive and avoidable statistics and knew they could do better. In an effort to provide the absolute best care modern science can offer they are now proud to provide the only in-office, chair-side caries susceptibility screening test on the market. Developed by CariFree, a caries research company, the CariScreen test measures the levels of cavity-causing bacteria in the biofilm in seconds. With this instant diagnostic, Dr. Hsu can stop the process and remedy the problem before decay sets in; something that has never been possible until now. According to Dr. Hsu:"Setting my patients on a course for great oral health and starry smiles is of utmost importance to me. The CariScreen test makes me a better doctor by allowing me to monitor bacterial levels and prevent dental problems for my patients before they start!"
Never before has such predictive information been available to patients or practitioners. Dr. Hsu can also tell his patients what the statistical likelihood is that they will develop new decay in the next year. Kim, a hygienist that works with Dr. Hsu says: "The test is so easy to take, our patients are happy that it's quick and painless. And it provides important information about the patients risk for decay in the future."
For decades the only approach to managing dental caries was to work backwards: drilling out decayed areas of the tooth and patching the cavity. The traditional approach did not tell the patient exactly why they had the disease or what specific things they could do to get better. The drill and fill model, as Dr. Doug Young DDS, MS, MBA (leading expert on dental caries) states, is like "Building a deck on a house while it is burning down."
While national statistics on decay rates continue to climb, Dr. Hsu and his team are determined, with the implementation of the CariFree CariScreen test, to stop this devastating disease in its tracks. Patients who see Dr. Hsu can expect the best assessment, diagnosis and therapy recommendations at their next appointment. For more information or to set up your screening, call 916-434-6220 or visit http://www.silverstardental.com
About Silver Star Dental:
Experience a fun, supportive, non-fearful, and caring environment that allows your child to develop a positive and healthy outlook on dentistry and oral health. Feel great knowing our team is trained to meet the unique needs of children. Each child is one of a kind, so we promise to do everything possible to ensure your child's dental experience a positive one. Enjoy an amazing environment with truly out-of-this world décor that's both relaxing for parents and fun for kids. We have beautiful murals, DVD movies, video games, play structures and a color-changing bubble wall to help your child feel at ease.