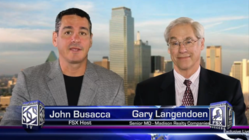 Dallas, Texas (PRWEB) February 27, 2013
During the recent FSX Investment Conference held at Dallas, Texas, Madison Realty Companies CEO, Gary Langendoen, granted an exclusive interview for FSXInterlinkedTV, an on demand web channel dedicated to entrepreneurs and investors.
During the exclusive interview Langendoen shared that Madison Realty Companies is a value added commercial real estate company expanding on how they convert and expand properties to increase value far more rapidly than inflation will. Langendoen also discussed the experience of Madison Realty Companies' management team.
Madison Realty is comprised of a talented senior management team whose expertise spans over 35 years and three real estate cycles. This level of experience is instrumental in structuring and managing commercial real estate investment programs that are in sync with today's market. Their investment product of focus is buying foreclosure single family homes at discounts in Southern California for resale or for rental income. Their clients are institutions, individuals and foreign investors who are seeking risk adjusted, attractive rates of return.
The full interview is available only on InterlinkedTV.com.
If you would like to meet CEOs, BD, and other Investors first hand, get Interlinked with FSX by simply registering for their next event. Some restrictions apply. Must be an accredited investor or be registered through FINRA to attend an event.
About Madison Realty Company. and InterlinkedTV
Madison Realty Companies is a private real estate firm with expertise in acquiring income producing real estate. We were founded over 20 years ago. More information at MadisonRealtyCompanies.com.
InterlinkedTV is an internet video production and distribution site dedicated to entrepreneurs and investors. We feature education, public and private companies, venture capital news, and investment events. This content is exclusive and cannot be found anywhere else. We give our members and viewers a unique chance to meet the CEOs and executives of high growth companies. For more information go to InterlinkedTV.com & Interlinked.com.