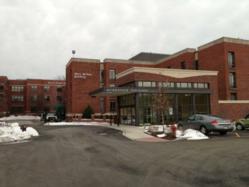 This design is a dramatic improvement to better serve all of our visitors..."
Evanston, IL (PRWEB) February 27, 2013
For anyone who has experienced a Chicago area winter, the new Murdough Pavilion's canopied and enclosed entrance to the McGaw Care Center is a welcomed enhancement. Located at Presbyterian Homes' Westminster Place campus at 3200 Grant Street, the new pavilion provides better access to the care center and a more comfortable reception area.
Visitors now have the option of entering the care center by elevator or stairs, both of which open into a gracious living room-style lobby. Elegant conversation seating, a grand piano, fireplace and a new reception desk are now part of the décor. An outside terrace with gardens and fountain is available for spring and summer days.
"The new Murdough Pavilion entrance to the McGaw Care Center provides an inviting and warm welcome to residents and visitors," says Nancy Tolan, vice president of facilities management. "This design is a dramatic improvement to better serve all of our visitors, especially during times of inclement weather."
Another new design element includes an improved driveway turnaround near the entrance to better circulate traffic. A ramped sidewalk leads to a separate entrance for medical emergency responders. The admissions office was enlarged and conveniently located near the reception desk. A conference room for family meetings was also created.
The Murdough Pavilion also features a renovated resident lounge called the Foster Pub, named for the Frank B. Foster family of Evanston who generously provided the funding for the renovation. The pub was designed for residents and families to socialize and enjoy beverages and snacks in a comfortable environment. It features a media center, hospitality bar and a redesigned turtle habitat, which provides an interesting nature display for viewing.
The new Murdough Pavilion was made possible through generous funding provided by the Murdough Family Foundation in honor of the late Tim and Grace Murdough, who were long-time Evanston residents and Presbyterian Homes' board members.
###
ABOUT WESTMINSTER PLACE
Westminster Place is a Presbyterian Homes continuing care retirement community in Evanston, IL, that offers independent living in apartments, cottages and townhouses; assisted living, rehabilitative services, health care, and memory care for more than 500 residents on a 40-acre campus.
ABOUT PRESBYTERIAN HOMES
Founded in 1904, Presbyterian Homes is a not-for-profit, faith-based organization with a national reputation for creating extraordinary retirement communities. Presbyterian Homes serves older adults through its residential and healthcare programs on campuses in Evanston, Lake Forest and Arlington Heights and Chicago, Illinois. The organization is accredited by the CARF/CCAC, the nation's only accrediting body for retirement communities. To find out more about Presbyterian Homes, go to http://www.presbyterianhomes.org