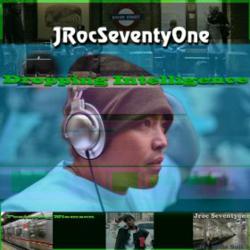 The Electronica/Jazz music master brings a fresh, new personal perspective to dance music.
(PRWEB) February 27, 2013
Jroc Seventy One (aka JB) announced the release of his second album, "Dropping Intelligence". The album was released on February 19, 2013, and is available on iTunes and Amazon.com, as well as other online retailers, including Spotify, My Space Music, Media Net, Deezer, and Rdio. "Dropping Intelligence" boasts 11 tracks, most of which are between 5 and 10 minutes long. JB said, "I'm really proud of this sophomore album. I released Sponge in October 2012, but I've matured as a musician in the short period between my debut album and Dropping Intelligence. People who are open to new experiences in music will love it."
Phoenix based KJZZ on air personality and musician Paul Anderson had this to say about the new album: "When you make the sacrifices and pay the dues to learn your craft, then it's time to step up and show music fans what you are all about. Jroc Seventy One has proven himself to be a true competitor with his latest release "Dropping Intelligence". The Electronica/Jazz music master brings a fresh, new personal perspective to dance music. The cuts feature everything from Electronica to contemporary combinations, and sounds produced by the ancient peoples of south Siberia. If you want to add a unique element to your next mix or playlist, you can't go wrong with the new EP "Dropping Intelligence", from Jroc Seventy One."
Born Jose Yupangco in Manila, Philippines in 1971, where his grandfather owned a piano manufacturing company, Jroc Seventy One was exposed to music at an early age. After moving to Los Angeles when he was 7, JB's parent permanently relocated to Vancouver, Canada where he now resides. Within a year, his father began teaching him piano, which he continued studying until the 7th grade. He began teaching himself to playing percussion when he was 14, subsequently moving on to other instruments, the first of which was the bass.
JB received his first DJ mixer as a present in 1988 for his 17th birthday and began DJ'ing professionally around 1995, landing the DJ spot in the renowned jazz room at The Purple Onion in 1996, where major artists from New Orleans and San Francisco played. He began dabbling with the drums at 24, but didn't really take it seriously until 2006, when he began taking lessons from Jay Beachman at Tom Lee Music in Vancouver, and also enrolled in classes at two drum schools (Grandville Island Drum School in Vancouver and also Tom Lee Music School in Vancouver). JB started penning music at that time so he could begin writing drum scores. He played in various garage bands in high school, and joined the band Smak in 1998, which was in the process of dissolution at the time. He and fellow Smak band member Chris Mitchell formed Smaqu-2 in 1999, and performed as a duo on the popular television show Breakfast TV on a Vancouver Station, and at local venues, and university radio shows. The collaboration ended with the release of a Virgin Records CD release in 2000.
From February 2000 - 2001, JB began playing and touring throughout the west coast of Canada with the band Gospel Space Juice, which was a funk/jazz/R&B band. When that ended in 2001, he continued playing at night clubs in Vancouver as a DJ, and created his own live band called Sushi On A Plate with band members from Gospel Space Juice, playing at the esteemed DV8 in downtown Vancouver. Each member of the band played an instrument, but also had a background in musical composition, which is where JB learned firsthand about the concept of practicum over theory. He ended Sushi On A Plate in 2001, moved to Japan that same year, and played for 8 months in Osaka and Kobe, then returned to Canada and took a break for two years. In 2004, he rejoined the music scene and began drumming heavily. JB started writing the music for Sponge in 2010, and completing and releasing it in 2012.
Jroc Seventy One said, "I have many musical influences and am an educated composer, so I have an open mind to all music. I can scratch, have a piano and drum background, and I'm using the most innovative software to date, called Ableton, which was made in Germany, while other people continue to use Reason and low end software. I don't have to hire a DJ or get music samples that other DJs use when they record. I can do all of that. My style of DJ'ing is a New York style, as opposed to the West Coast."
Jroc Seventy One placed 5th place out of 194 competitors in a contest to produce an original song for Converse, who sponsored the contest, which was decided by popular vote. In January 2013, he placed 4th out of 234 global competitors in a remix competition by Indaba Music, also by popular vote. He collaborated with Niamson, one of DMX's producers, on the track "I Can't Remember", and has taken courses in Advanced Ableton Music Production (for music producer) and Ableton's DJ and Live Production Program.
"Dropping Intelligence" is available through Amazon.com or iTunes:
http://www.amazon.com/Dropping-Intelligence/dp/B00BHY0IH8/ref=sr_1_2?ie=UTF8&qid=1361381227&sr=8-2&keywords=Jroc+Seventy+One
https://itunes.apple.com/album/dropping-intelligence/id604200687
Links:
http://www.jrocseventyone.com/
http://www.reverbnation.com/jrocseventyonejb
Contact:
Jose Yupangco
T: (778) 926-6419
E: jb(at)JrocSeventyOne(dot)com