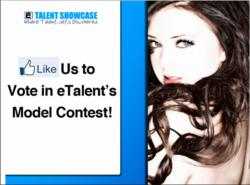 Starting on March 4th, the public can go to the eTalentShowcase Facebook page and vote for the model they believe has the most potential.
New York, NY (PRWEB) February 28, 2013
Hundreds of hopeful models entered the eTalentShowcase.com 'Make Me A Supermodel' contest. Now it's down to 10. A band of judges reviewed the entrants and have narrowed the contestants down to a selection of finalists—leaving it to the fans to select a winner: Starting on March 4th, the public can go to the eTalentShowcase Facebook page and vote for the model they believe has the most potential.
Among the finalists is Justine Davis, a Sicilian and Native American who is a ring card girl for mixed martial arts sports. She's also the winner of several major swimsuit contests. Learn more about Justine by checking out her profile.
Jessica Marie Jones is another of the judges' favorites. An internationally published model, Jessica has modeled most of her life. She's not only done runway, but has also been on international magazine and catalog covers. Check out her profile.
A cross between a southern belle and a California beauty, finalist Jennifer Brown began modeling when she was 17. She's concentrating on high fashion at the moment but is looking to branch out into TV and film. For her full story, visit Jennifer's profile.
A single glance at finalist Taylor Brynne tells you this is not your average, girl next-door model. With numerous tattoos and piercing, Taylor is an alternative model. To learn more about where her tattoos are located, read her profile.
Finalist Sarah Beth Harris has quite an impressive resume that's packed with commmercail and TV work, high fashion, fitness and hosting gigs. Get the full story at her profile.
This isn't the first time Emilee Miller has been a finalist in a beauty contest. She came in third in the 'World Face of the Month" contest and won the Natural Teen Category. Emilee's focus is on fashion, doing shows and runways. Learn all about Emilee at her profile.
Hailing from Lexington, Kentucky, finalist Lorraine Coldiron is also a dancer, a pianist and a sword fighter. View her profile to see just how multi-talented this model is.
De'Cha LaVeau has modeled part time most of her life. Two years ago, this finalist began modeling full-time. As her profile highlights, De'Cha's "keen eye for attention to detail, charisma, energy and strong people skills has led her into many areas of the modeling industry, including promotions, conventions, trade-shows, print work, runway, music videos, car shows, and television commercials.
A 24-year-old model from Scottsdale, Arizona, Amber Platt has experience in print, runway and promotional modeling. She's also been published in 'Modelixir'. Take a look at her pictures on her profile.
Anna Papadakis is an avid dancer who faithfully practices yoga. She's also a personal trainer and is a licensed cosmetologist. In fact, this finalist has a long and impressive resume. Check it out on her profile.
About eTalentShowcase.com
eTalentShowcase.com is a social media site that provides artists and entertainment industry professionals with powerful, intuitive tools to connect, promote and prosper online. The site offers job listings, free profiles, original content, contests and a base of active, engaged fans. eTalentShowcase, Where Talent Gets Discovered.