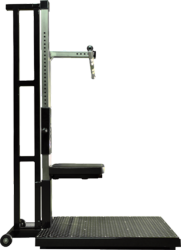 The strongest MMA trainers and fighters that could be found were asked to test their strength on the 1 Rep Gym™
Oaklahoma, OK (PRWEB) February 27, 2013
Wellness Revolution International, based in Oklahoma City, OK put their revolutionary strength training machine, the 1 Rep Gym™, to the test at House of RYU Athletic Center in Las Vegas. As the premier MMA training center, House of RYU was selected as the best place to see what is possible regarding strength and maximal muscle fiber recruitment since it is home to some of the strongest and fittest athletes in the world.
MMA trainers and fighters incorporate weight training for strength and the 1 Rep Gym™, easily the most rugged isometric training machine ever designed, capable of more than 4000 lbs of resistance, enough for even the most elite athletes. The strongest MMA trainers and fighters that could be found were asked to test their strength on the 1 Rep Gym™.
Nick Hawk of Showtime's Gigolos volunteered and was able to break the current bench press record with a 773 lb seated bench press. He also broke the leg press record with a 2074 lb leg press.
A young trainee, only 16 years old, shocked the crowd with a 400 lb tricep press on the 1 Rep Gym™. Chris, in his 30s and weighing 240 lbs at 6 feet 4 inches tall, performed a 1542 lb leg press. Chris had this to say about the 1 Rep Gym: "It's awesome! It is a helluva workout. I would definitely, definitely recommend the 1 Rep Gym."
Leslo, after performing a 513 lb. bench press had this to say: "Oh my gosh, I love this machine because it's safe and you know exactly how strong you are. I was just in there the ring for an hour, but after 1 exercise on this machine I FEEL MY CORE! This machine is the best, I love this machine!"
TJ, lead Strength and Conditioning Coach for House of RYU, took the 1 Rep Gym through performed a full body workout exerting 7,162 lbs of force while doing all 10 exercises on the 1 Rep Gym™ in a total of 70 seconds, a mind-boggling display of power and strength.
For more information on the 1 Rep Gym™, visit http://1repgym.com.