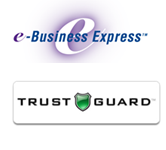 Cleveland, Ohio (PRWEB) February 28, 2013
Cleveland, Ohio - e-BusinessExpress.com has finalized a partnership agreement to promote Trust Guard's certification and Payment Card Industry Data Security Standard (PCI DSS) validation services to its thousands of clients.
The agreement between e-Business Express, Premier MIVA Merchant partner, and specialist in e-commerce web design, development and hosting services, and ecommerce security experts Trust Guard, leverages widespread adoption of Trust Guard by thousands of retailers. Merchants typically see online conversion rates rise as much as 30% by promoting their Trust Guard Security Scanned Seal to current customers and prospects.
Under the agreement with Trust Guard, all e-Business Express clients will receive discounts on Trust Guard subscription fees, as much as 70% off, as well as complementary services to validate their PCI DSS compliance.
"After years of experience with other trust seals, the latest being Hackersafe (McAfee), we were tired of seeing the seal used as an advertisement for the issuer. Instead of assuring our customer that Lumera Diamonds is safe and secure, the seal was promoting the benefits of purchasing the service. Our average ticket on diamonds is over $4000, so security is an important issue for our customers. Trust Guard fits the bill perfectly, and is a much better value than any other option we have reviewed", said Joe Brehob of lumeradiamonds.com.
"We've made it easy for e-Business Express merchants to enjoy the ROI of having a secure and certified website. There are many companies that provide trust seals and many that provide PCI Scanning. None of them, however, have the kind of comprehensive website security and testing that Trust Guard offers. In an effort to both recognize and resolve security, privacy and business identity concerns among online consumers, Trust Guard provides trust seals and services that cannot be matched by their competitors.
Not only that, but we believe wholeheartedly that both large and small businesses should be given the opportunity to grow and succeed through our services. Our discount partner pricing for e-Business Express's Merchants are a reflection of that belief.
We look forward to helping e-Business Express's customers navigate the compliance validation process so they can increase sales and reduce liabilities", said Trust Guard's Chief Marketing Officer, Cresta Pillsbury.
Contact an e-Business Express representative at 877-907-3277 to discuss making Trust Guard a part of your businesses success.