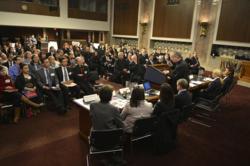 "At the heart of the Immigrant Student National Position Paper is a call for improved institutional practices at Jesuit institutions in the United States to help these young people flourish on campus and off," said Rev. Richard Ryscavage.
Fairfield, Connecticut (PRWEB) February 26, 2013
Guadalupe, an undocumented student at Fairfield University who was born in Mexico and graduated from the Bridgeport, Conn. public school system, hopes to work in Information Systems one day.
The outgoing Dolan School of Business freshman receives tuition assistance, enjoys classes taught by Vishnu Vinekar and Mary Murphy, and likes that there's "a fair number" of undocumented students at Fairfield. But without citizenship, the bright 18-year-old has a number of obstacles that might hold her back, including studying abroad and uncertain career prospects since she doesn't have a social security number. President Obama's Deferred Action for Childhood Arrivals (DACA) program offers her temporary relief so she can get a driver's license and obtain authorization to work legally.
To help students like Guadalupe, Jesuit university and college presidents, senators, and members of Congress joined more than 50 students and dozens of faculty and administrators this morning at an event, "Immigration: Undocumented Students in Higher Education," held in the Dirksen Senate Office Building. There, researchers unveiled the findings of a Ford Foundation-funded study, Immigrant Student National Position Paper, an endeavor led by Fairfield's Center for Faith and Public Life in Connecticut, in collaboration with Loyola University Chicago's Center for Urban Research and Learning and Santa Clara University in California. The study proposes a new model of leadership in higher education regarding access to education, particularly for the undocumented.
Of the 65,000 undocumented American students who graduate high school annually, roughly 5-10% of these students enter post-secondary education. A handful at the top of their class are awarded merit-based scholarships or find a way to finance attendance at a Jesuit institution, with their storied history of serving immigrants.
The presidents of 25 Association of Jesuit Colleges and Universities (AJCU) recently signed a moral statement, pledging their support, to the education and care of undocumented students, and many were at the event to support these individuals who were brought to the U.S. as young children by parents who either overstayed a legal visa or entered the country without the authorization of the federal government. Researchers said their obstacles, issues, and desires serve as a to do list of what any new practices and procedures must address.
They include:

Inability to reach potential: In the U.S. today, many undocumented students - bright, talented, and motivated young men and women - find themselves prevented from developing their full potential, limited in their ability to contribute to the civic life of their surroundings.
Fear of deportation: Underlying the college admissions process for undocumented students is the ongoing fear of being deported. From application to graduation, they worry whether their status will change their life or a family member's forever.
Broken dreams: A group of people are eager to become teachers, accountants, engineers, nurses, and physicians. However, these dreamers are barred from pursuing those professions since they are not American citizens, and therefore they cannot get the proper certifications nor do internships to meet degree requirements.
Limited opportunities: Other barriers they face include inability to work on and off campus; study abroad; go on service trips: take on resident assistant, student government or other leadership roles; participate in research; and attend academic conferences.
No financial aid: The undocumented cannot apply for or receive any federal aid, including federal work-study stipends, and state aid is limited or non-existent for them.
Isolation: They feel disconnected from fellow students and professors.
Culture shock: Some experience college campus culture shock because the demographics are so different from where they came from.
Lack of public support: Over 75% of Jesuit university staffers believe that enrolling and supporting undocumented students fits with the mission of Jesuit higher education and more than 60% support the idea that it should be an institutional priority.
Recognizing the urgency of this immigration related problem, the study - featuring in-depth interviews with undocumented students, community advocates and university staff members - examined undocumented students' complex lives across the 28 American Jesuit colleges and universities, where there is no consistent policy regarding undocumented students.
"At the heart of this endeavor is a call for improved institutional practices at Jesuit institutions in the United States to help these young people flourish on campus and off," said Project Leader Rev. Richard Ryscavage, S.J., a Jesuit priest who is the director of the Center for Faith and Public Life and professor of sociology. "Ultimately, this project presents a way of proceeding on this area of immigration that informs and helps shape the national educational discourse. Our findings revealed that a pathway to citizenship will not solve all of the challenges these student face. Additional policies that address the needs of the students as well as their families are critical."