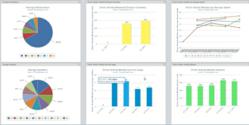 We are bringing power and performance to the platform that is unrivaled in GPS tracking software.
Naples, FL (PRWEB) February 27, 2013
In a market characterized by rapid growth in both the technological and financial areas Position Logic is unveiling the next generation of GPS tracking platform, to be available to all current and new customers through its scheduled March 2013 software release.
The new release is built on top of report-generation wizards and templates that let users quickly generate reports that are both fast and graphical, allowing administrators to see and understand important data at a glance. Although the reports are based on templates, the process allows users to customize reports for themselves – functionality which was previously only available through putting in a paid support ticket. Furthermore, users can choose to view each new report in whatever way makes the most sense to them, whether that be as a pie chart, a bar graph, a line graph, or even as a traditional data table.
To make the new system even more powerful, users will have the option of adding on new dashboard functionality that will allow them to search their saved reports and add them all into one convenient place, letting them see all their important data system-wide at once.
According to Lead Developer Andres Hernandez, the new functionality is part of a long Position Logic tradition of putting the customer first. "We are bringing power and performance to the platform that is unrivaled in GPS tracking software. We are giving our clients the ability to make it their platform, set up their own way – and without the need for expensive, time-consuming support tickets," said Hernandez.
Position Logic is offering a webinar that will provide a sneak peek at the new graphical reporting framework on Thursday, February 28 at 11:30 a.m. EST for English-speakers and 2:30 p.m. for Spanish-speakers. Please visit "Webinar: Graphical Reporting Framework on the GPS Tracking Platform" to register.
About Position Logic
Position Logic, LLC, an Inc. 500 company, is a leading B2B location-based services provider with offices in Florida, Illinois and the Dominican Republic and clients in over 50 countries spread over the continents of North America, South America, Europe, and Africa and in the Middle East region.
For more information about Position Logic, please contact our Sales Team by phone at 866-676-2372 (Toll-Free) or 239-465-0587 (US/International), 801.665.0587 (fax) or email at sales(at)positionlogic(dot)com. You can also visit the Position Logic website at http://www.positionlogic.com.