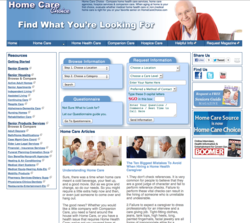 it is up to the patient, not the case manager, to decide if respite care, home health care or skilled nursing care is necessary
Richmond, VA (PRWEB) February 28, 2013
HomeCareChoice.com and Seniors Guide encourage patients and their families to research various care level options and agencies to determine which one can provide the best care after a hospital stay, because hospitals may often be too busy to match each patient with the agency that fits the patient's needs.
Most patients referred to a specific care agency after a hospital stay are informed of only one option, and the case managers at the hospitals often try to keep patients with the same company. Patients feel obligated to follow the advice of the hospital, and they are unaware of other options that could potentially be a better match for them. Ultimately it is up to the patient, not the case manager, to decide if respite care, home health care or skilled nursing care is necessary, and the patient also has the freedom to choose which specific agency best fits his or her needs.
With the help of Kim Jemison, a marketing and therapy services coordinator for Wellcare Home Health, Seniors Guide is trying to make patients aware that they have a choice, and to expose patients to numerous agencies that are not often mentioned by case managers at hospitals. "The truth of the matter is that the patient should have a choice," Jemison says.
According to Jemison, the problem is that patients do not know they have a choice, or that they do not have guidance from their family on what agency or care level is the best fit. "Sometimes, if a patient doesn't have a family, those are the patients that seem easy to coerce to utilize whatever services the hospital deems necessary," she says.
Patients are encouraged to spend time with their families to decide what agency is best by researching and interviewing comparable agencies. This can give patients and their families a better understanding of the services offered, the environment, and the skill and personality of caregivers.
"It's important to know that a referral from a doctor or discharge planner for a specific home care, skilled nursing rehabilitation, or hospice agency is a suggestion, not an assignment. The choice is still yours," says Doug Callahan of Ross Publishing, the parent company of HomeCareChoice.com and Seniors Guide, which publish resources to help patients explore their options for care agencies.
At http://www.HomeCareChoice.com patients can research and compare various home care, companion care and hospice in Ohio, Indiana, North Carolina, and Virginia before making their decision.
Seniors Guide, a Richmond, Va. -based company publishes Seniors Guide magazines throughout Cincinnati, Ohio; Dayton, Ohio; Indianapolis, Indiana; Raleigh-Durham, North Carolina; Richmond, Virginia; and Roanoke-Lynchburg, Virginia and features a correlating website of http://www.SeniorsGuideOnline.com. Seniors Guide's mission is to help seniors and their families find the information they need on options available in senior housing, senior care, assisted living, independent senior living, retirement communities and other retirement living needs. Seniors Guide also has resources at http://www.seniorproductsservices.com for Cincinnati, Ohio; Dayton, Ohio; Raleigh-Durham, North Carolina; and Richmond, VA. Ross Publishing, Seniors Guide's parent company, began in 1991 and has been publishing helpful, free publications and websites ever since.