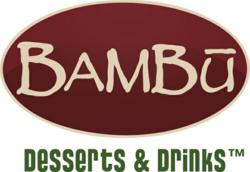 Cupertino, California (PRWEB) February 26, 2013
Bambu Desserts & Drinks, the renowned San Jose Vietnamese dessert & drink chain, announces the grand opening of a new shoppe in Cupertino Village. "We continue to be amazed with the continued excitement and growing demand for our chè," said Kelly Nguyen, co-founder and CEO of Bambu Desserts & Drinks, Inc. "Now, the charmingly designed Bambu Cupertino brings the Bambu experience to another level."
Bambu - Cupertino is welcoming friends, family and the community to enjoy the grand opening festivities, free snacks and special promotions which kick-off on Saturday, March 2 at 10:00 AM with the ribbon cutting by Cupertino Mayor Orrin Mahoney. "Grand opening week is a great opportunity to experience one of Bambu's unique drinks," continued Kelly.
This newest of the Bambu family of unique shoppes is located in the heart of Cupertino Village at 10963 North Wolfe Road, Cupertino, California—just north of Hwy 280 and south of Homestead Road. "My wife, Danielle, and I visited a Bambu shoppe multiple times a week to enjoy a refreshing Bambu drink," said Chris Oung, co-owner of Bambu Cupertino. "So, instead of waiting in line at one of their stores in San Jose, we decided to open our own Bambu in Cupertino."
The Bambu Desserts & Drinks menu offers nearly 100 desserts, coffee, teas, cold drinks and smoothies, but Bambu is best known for their rich Vietnamese coffee, unique chè and personalizing their customer's orders at no extra charge including extra pearls, jellies or shots of espresso. "With our expanded menu of drinks and desserts, we are sure that there is something for everyone of every age group and culture will enjoy," explained Danielle Tho, co-owner and manager of Bambu-Cupertino. "We look forward to preparing and sharing our fresh and healthy chè with our friends, family and the entire Cupertino community."
Bambu Desserts & Drinks was founded in 2008 by four sisters in San Jose, California. With twelve new shops opening in the past 18 months, Bambu has become nationally known for its fresh, healthy and colorful Vietnamese-inspired chè, fresh coconut drinks, Vietnamese espressos, blended coffees, and exotic smoothies. "Chè is a type of dessert. Bambu chè is enjoyment in a cup," enthusiastically states Julie Nguyen, Bambu co-founder. "We are so happy are customers keep coming back for more."
For more information on Bambu Desserts & Drinks visit http://www.drinkbambu.com.