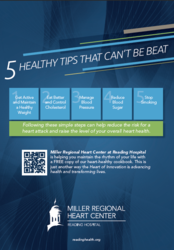 Morristown, New Jersey (PRWEB) February 27, 2013
Trajectory (http://www.trajectory4brands.com) collaborated with Reading Health System (http://www.readinghealth.org) to develop an integrated healthcare marketing effort, emphasizing the Miller Regional Heart Center's commitment to providing a full range of heart services that support a heart-healthy community. The multi-media program included special events and seminars, collateral, print, and online marketing.
The campaign kicked off with over 500 people attending the "Optimize Heart Health" event, a multi-faceted program featuring educational exhibits, fitness demonstrations, inspiring speakers, and an educational panel. Attendees received a Healthy American Cookbook filled with heart-healthy recipes, compliments of Reading Health System. The geo-targeted print and online campaigns reinforced heart-health through educational messages about the signs and symptoms of a heart attack, healthy tips to reduce risk and raise the level of heart health, along with the importance of calling 911.
Ongoing efforts will continue to support Reading Health Systems commitment to their community – providing the full range of comprehensive cardiac care services including prevention programs, state-of-the-art diagnosis, treatment services, and cardiac rehabilitation.
The facts: every year about 715,000 people in the United States have a heart attack and about 600,000 die from heart disease (the leading cause of death for both men and women*), but it is preventable and controllable. Educating communities about heart-health and providing the resources they need, will help people live longer, healthier lives. Trajectory is proud to have been part of this effort.
*Go AS, Mozaffarian D, Roger VL, Benjamin EJ, Berry JD, Borden WB, et al. Heart disease and stroke statistics—2013 update: a report from the American Heart Association.
Trajectory is a NJ-based, nationally focused branding + marketing agency creating new energy for customers, brands and businesses. It does this by working with clients strategically and creatively to help them see and think in new ways, perform better and ignite new growth. All Trajectory clients benefit from the firm's focus of working across sectors where they have strong experience and proven results: Healthcare, Personal Care & Beauty and Leisure & Lifestyle. Representative clients include Arnold Palmer Enterprises, EMA, Orlando Health, Pacific World's SensatioNail, Palomar (PaloVia Skin Renewing Laser) and Reading Health System. Learn more about Trajectory by contacting Eric Brody, President at 973-292-1400x201 or email him at eb(at)trajectory4brands(dot)com.
About Reading Health System. Reading Health System is a not-for-profit healthcare system providing comprehensive acute care, post-acute rehabilitation, behavioral, and occupational health services to the people of Berks and adjoining Pennsylvania counties. In total, its employee family numbers more than 7,680 men and women in both clinical and support services, designating the organization the largest employer in Berks County.