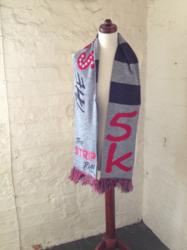 (PRWEB) February 27, 2013
Global Scarves is expanding its custom soccer scarf line to include new scarf projects, such as the Strip Run 5k race in Lee's Run, Missouri. But don't worry; it's not quite what it sounds like.
Global Scarves sales rep Mike Buytas took the reins on expanding the custom soccer scarf territory. Mike approached the Strip Run with the idea of using custom scarves for the race for all participants of it. Each runner in the 5k receives not only a custom Global Scarves custom scarf, but also a custom pair of Strip Run sunglasses. This shows that custom scarves in the United States are shifting greatly to not being stuck on soccer-specific events and groups. This also isn't the first time that Global Scarves has created a batch of custom scarves for a group outside of soccer. Global has seen runs of custom scarves for hockey teams, ski resorts, live theatre groups, rock bands and much more, showing that GS is capable of providing high quality scarves to more than just one niche group.
The Strip Run is a 5k race taking place on March 16th, and uses a unique style of donation for a race. Racers show up wearing all sorts of clothes that they wish to donate for a better cause, with "strip" stations along the path of the race, where racers shed the clothes they want to donate at the designated stations. It's the first of its kind for a donation style race, and one that should be greatly successful in its inaugural year. All donations will go towards Big Brothers and Big Sisters of the Greater Kansas City area.
Global Scarves is very proud to be a part of a race that helps out those in need, while providing a fun new way for participants to be involved.