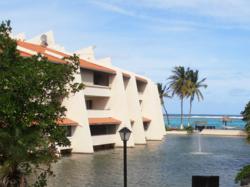 Discount St. Croix condo rental rates for the upcoming low season mean travelers may save so much money versus a hotel they can pay for the airfare .
Christiansted, VI (PRWEB) February 28, 2013
Financial Firebird Corporation announces a special low price offer for weekly condominium rentals on the Caribbean island of St. Croix in the USVI. Travelers booking a 7 night stay at a three bedroom condo may secure rate of $100 off the already discounted quote of $1050 per week for the extraordinary low total price of $950 for a week's accommodations in the Virgin Islands. Visitors can easily see the nightly cost of $135 not only provides an bargain for a 3 BR condo, but beats the price of most hotel rooms.
Mory Brenner, Financial Firebird Corporation's vice president explains, "To truly appreciate a vacation in a St. Croix condo rental imagine a quick comparison of a group making a reservation at a hotel instead. With a thee bedroom condominium guests stretch out in over 1500 square feet while a hotel room might offer a third of that or less. Next think about fitting a family of 6 into a hotel room, wait, the party will need three rooms. Even a discounted off season rate for three rooms at a nice St. Croix hotel would total almost $4600 after all fees. With this newly announced condo special the total of $950 means St. Croix travelers can save up to $3650 over a hotel option, perhaps enough to pay for their airfare."
The introduction of this special coincides with a new photo interface on the condo rental website and the introduction of a new YouTube video. In addition to images of the Mill Harbour condominium complex and the interior of the condo people will find many pictures exploring St. Croix, Virgin Islands including things to do and St. Croix restaurants.
For even larger groups multiple condos may be rented together to accommodate a sizable corporate function or a Caribbean destination wedding. For people with other St. Croix destination activities in mind inquire about scuba packages or golf packages.
Some off season weeks have already been booked, so potential renters should think about selecting dates and booking now for a nice selection. People taking trips of over 2 weeks can ask for even more discounts. While summertime at other destinations travelers might think of as winter escapes soar to over a hundred degrees in July or August, St. Croix remains at a constant 70 to 85 year round. With airfares low and this new condo rental discount, look into the US Virgin Islands for a summer vacation and explore America's Paradise this year.
About St. Croix Condo Rental
St. Croix Condo Rental along with its website are owned and operated in conjunction with the Financial Firebird Travel Corporation, sought by travelers in search of vacation spots and tourism information on the United States Virgin Islands and other Caribbean destinations. The company owns a variety of domains with other U.S. travel offerings as well including city guides and hotel directories such as their Orlando resort guide.