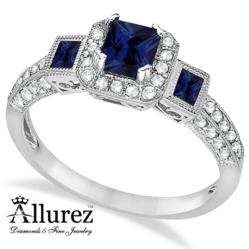 The traditional round solitaire engagement ring is getting a squarer shape, with gemstones and unique accented bands.
New York, NY (PRWEB) February 27, 2013
No two women are exactly the same, so why should they have the same engagement ring? The traditional round solitaire diamond engagement ring will never go out of style; but it appears the engagement rings of 2013 are more about diamond shape, the use of gemstones and intricate band details.
A spokesperson for Allurez, a well-known online jewelry store, recently presented his observations on engagement ring trends, "People still love solitaire settings, but the traditional round center stone is being replaced by squarer options like princess or cushion cut diamonds. And the band settings have become more elaborate with etched details, filigree engravings, higher set prongs, and other twists and turns that are as unique as the couple themselves."
Now that the groom-to-be is spending more than $5,000 on the engagement ring, and he's waiting longer to get hitched, engagement rings tend to be less traditional. Along with diamonds taking on new shape, the three (3) stone engagement ring is going through some changes of its own. Past, present and future rings are trending towards color with gemstone side stones of sapphire blue, emerald green, ruby or pink sapphire. Old is new again with vintage engagement ring settings gaining new interest, and the simplicity of a beveled solitaire returns. Pave set ovals, cathedral style squares; anything goes.
"I think the biggest change in engagement rings is that they are now becoming true reflections of the couples themselves. There are vintage styles for quieter couples - double halos for those who love a little extra bling. The bottom line is, now designing your own engagement ring puts you in control, and the results are spectacular."
A diamond never goes out of style; the engagement ring setting is the vehicle for taking that diamond places it's never been before.
Allurez is an established jewelry designer and retailer offering Allurez diamonds and fine jewelry. In addition they offer birthstone, wedding anniversary jewelry, loose diamonds and more. They are headquartered in New York where they have multiple offices. You can visit them online at http://www.allurez.com.