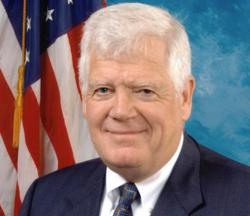 Seattle, WA (PRWEB) February 27, 2013
For Seattle Congressman Jim McDermott, the "Celebrating Our Roots" Festival has been a way to celebrate the 7th Congressional District's rich diversity and to salute his own Irish heritage. The festival is held each year in March near St. Patrick's Day. The Festival features "Irish" Potato Appetizers and Delicious Desserts which have also made the event popularly known as Annual Potato Festival.
As part of the tradition for last 19 years, someone from the local community is honored in each year's celebration for making a difference in other's life. The founders of Washington State and India Trade Relations Action Committee (WASITRAC), Debadutta Dash and Habib M. Habib have been chosen to be honored at this year's Festival.
Established in 2007, WASITRAC as the non-profit trade advocacy group has been instrumental in facilitating two trade missions to India in 2010 and 2011. In 2012, the group organized the 1st Washington State Summit on US-India Trade and Commerce at the Seattle Center as part of the Next 50, celebrating the 50th anniversary of the 1st World Fair.
"We are deeply humbled", said Dash. "Congressman is a big advocate for US trade with India and by choosing us as the honorees for this year's Roots Festival he has once again highlighted the important roles of advocacy for a stronger bi-lateral trade relations between the two largest democracies", he said.
Both Dash and Habib play active roles in the community. Dash is the current President of the board for the Asian Counseling and Referral Service (ACRS) and the Chair of the Economic Development committee for the Washington State Commission on Asian and Pacific American Affairs (CAPAA). Habib has been the Treasurer of the Washington State Democrats for more than a decade. He is also the past chair of both ACRS and CAPAA.
The event will take place at 5:00 pm on Sunday March 17, 2013 at the Northgate Community Center at 10510 5th Avenue NE Seattle 98125.