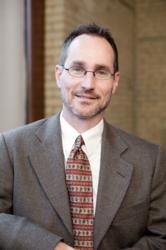 The security reports have enabled us to make the appropriate strategic and tactical investments to our security infrastructure
Grand Rapids, MI (PRWEB) February 28, 2013
Scott Montgomery opens his laptop and begins a process that is so notorious, it carries his name. He quickly begins scanning for open ports, unlocked computers, easy passwords and unsecured files to gain access to the bank he is currently hacking. Except, over the past four years, banks have been inviting him in to their own front doors, eagerly awaiting his precious results. Montgomery is the principal/leader/pioneer of OST's IT Security Practice, that's seen over 50% growth since 2009.
Montgomery and his team have performed over 750 IT Security Assessments for hundreds of banks, credit unions and healthcare organizations. The Montgomery Method™, a specialized security audit technique pioneered by Montgomery in 1998, focuses on finding and fixing weak spots in an institutions network and staff.
The report on Chinese hackers released last week highlighted only a single instance of a growing trend of high-profile cyber security worldwide, one that has many organizations worried. Institutions have been turning to OST's Security Audits in order to keep their own names out of the headlines – and with resounding success.
"The security reports have enabled us to make the appropriate strategic and tactical investments to our security infrastructure that not only reduces our risk exposure but also enhances the level of customer service we provide our clients" States Jake Martin, SVP IT/Communications in the healthcare industry.
The OST IT Security team, led by Montgomery, is currently developing new tools to keep organizations secure around the clock. Montgomery says "With us performing over 100 assessments a year, it's becoming more and more of a requirement to find ways to continually monitor for security threats 24/7". The team is planning ways to produce small devices that scan for security threats, and alert them when one is found – even if there is a power or internet outage. "If hackers decide to cut the power, or limit access to the internet, we'll know about it in real-time" says Montgomery.
About OST
OST (Open Systems Technologies) is an employee-owned, $68 million company specializing in IT Security. Since 2003, the company has logged close to 30 percent compounded growth in revenue and in the number of employees. In 2007, 2008, 2009, 2010, 2011 and 2012 OST was recognized on INC. 5,000's Fastest Growing Private Companies. OST was also listed on CRN's Tech Elite 250 in 2010, 2011, 2012 and 2013 and CRN's FastGrowth100 in 2007, 2008 and 2009 and on the Michigan 50 Companies to Watch in 2009.
For more information visit http://www.ostusa.com
####