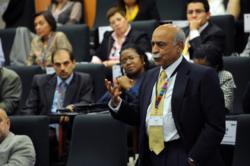 The conference will provide a forum for educators and policymakers to create new models to empower youth through employment and entrepreneurship.
Tunis, Tunisia (PRWEB) February 28, 2013
The Global Business School Network (GBSN) will convene leading international management and entrepreneurship educators, as well as industry, government and development professionals, from around the globe for the GBSN Annual Conference and 10th Anniversary Celebration June 10 – 12, 2013 in Tunis, Tunisia. Titled "Education, Employment and Entrepreneurship," the conference is co-hosted by the Mediterranean School of Business (MSB) in Tunisia and Babson College in the US. The annual GBSN conference is a premier international forum to address how to improve management education for the developing world.
"For our 10th anniversary we are bringing the GBSN conference to Tunisia, the birthplace of the Arab Spring, to take a much-needed look at how business schools can play a role in improving the devastating unemployment facing youth in the developing world," said Guy Pfeffermann, CEO and founder of GBSN. "Entrepreneurship is an especially important key, not only to giving this generation hope, dignity and livelihoods, but also to creating more jobs and bringing entire societies out of poverty and disarray."
The conference theme will focus delegates' attention on the burgeoning issue of the large youth populations in many developing nations that lack the employment and entrepreneurship skills that they need to prosper. Conference delegates will participate in interactive sessions designed to stimulate new ideas on issues such as using mobile technology to scale entrepreneurship training, fostering peace through business innovations, and building collaborative models of training PhDs to strengthen schools in developing countries. The keynote conversation on June 11th will feature Patrick Awuah, the Ghanaian visionary who started the Ashesi University after earning his MBA at the University of California, Berkeley and working for Microsoft Corporation. Topics of conference sessions will include:

Promoting Models of Inclusiveness in Agribusiness
Peace Through Commerce: Business Innovations as a Pillar of Peace
Employing MOOCs and Flipped Classrooms Effectively
The Power of Mobile Technology: Scaling Entrepreneurship Training
Building a Collaborative Model to Train PhDs Across Borders
A full day of the conference will be dedicated to examining the ecosystem of entrepreneurship and employment in the Middle East/North Africa region, including visits to industry sites in Tunis.
"All human beings are born entrepreneurs. At the Mediterranean School of Business, we believe that we - parents, educators and the ecosystem at large - have the responsibility to nurture and cultivate this human instinct," said Mahmoud Triki, Dean of the Mediterranean School of Business. "Our programs are designed to develop and enhance the entrepreneurial spirit. Our mission is to train our students to become job creators, not simply job seekers."
The first day of the conference will be a closed-door meeting for the Global Business School Network Member Schools held at the Mediterranean School of Business's Tunis campus. The following two days of the conference are open to all and will be held at The Residence hotel conference facility in Tunis.
"Babson is the global leader in entrepreneurship education and we believe that the GBSN Conference is being held at the right time and in the right place," said Dennis Hanno, Dean of Babson College. "Tunisia and the MENA region need entrepreneurial leaders to drive change. Working with our partners at MSB and GBSN, the conference will provide a forum for educators and policy makers to create new models to empower youth through employment and Entrepreneurship."
About the Global Business School Network
Established in 2003, the Global Business School Network is a nonprofit organization that addresses the crippling waste of talent and resources in the developing world caused by a severe shortage of people with business and management skills. Harnessing the power of an international network of over 50 leading business schools, GBSN facilitates networking, knowledge sharing and cross-border collaboration that strengthen local business schools in developing countries.
GBSN's programs have helped to develop hundreds of local case studies in Kenya, establish a new business school in Pakistan, and bring cutting edge teaching techniques to a school Malaysia. For more information on GBSN membership, resources or capacity-building programs please visit http://www.gbsnonline.org.
About the Mediterranean School of Business
The Mediterranean School of Business (MSB) started its activities in 2004 by offering a world class Executive MBA degree and short term specialized management development seminars targeting top executives. Today, MSB programs boast an outstanding network of faculty, staff and students, who all come together in a multicultural setting that is conducive to learning, growth and development with an intellectual vitality comparable to the finest North American and European business schools. More than five hundred executives representing twenty different nationalities have benefited from MSB Executive MBA.
Besides its Executive MBA; MSB offers an undergraduate degree in management and Masters of Science in the different functional areas of business. Both the Executive MBA and the Masters are accredited by the Association of MBA (AMBA). Other programs offered by MSB include short term Study Abroad Programs (SAP) on "Doing business with the MENA countries" and intensive Arabic programs.
In the framework of its adherence to the development of global education, MSB is continuously seeking the organization of exchange programs both are the undergraduate and graduate levels with prominent business schools around the world. For more information please visit http://www.msb.tn
About Babson College
Babson College is the educator, convener, and thought leader for Entrepreneurship of All Kinds™. The College is a dynamic living and learning laboratory, where students, faculty, and staff work together to address the real-world problems of business and society -- while at the same time evolving our methods and advancing our programs. We shape the leaders our world needs most: those with strong functional knowledge and the skills and vision to navigate change, accommodate ambiguity, surmount complexity, and motivate teams in a common purpose to create economic and social value. As we have for nearly a half-century, Babson continues to advance Entrepreneurial Thought and Action® as the most positive force on the planet for generating sustainable economic and social value. For information, visit http://www.babson.edu.