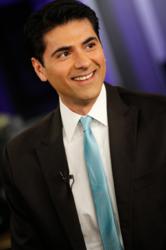 Heart disease is the biggest killer in the world.
Beverly Hills, CA (PRWEB) February 27, 2013
Beverly Hills orthopedist Dr. Ahluwalia drops by Good Day LA every week to inform viewers about a variety of significant topics in the field of health and wellness. This Monday, Dr. Ahluwalia warned consumers to beware of online retailers promising fast cures for the flu.
"Whenever there's a flu epidemic...all these Internet sites pop up, and they offer these miraculous cures," said Dr. Ahluwalia, a board-certified surgeon at La Peer. "The problem is that a lot of these cures are not only fake, but they are sometimes unsafe.
The doctor spoke last month about the severity of the 2012-13 flu season, which reached epidemic proportions in 47 states. In Monday's segment, Dr. Ahluwalia suggested that some online retailers were taking advantage of the crisis to promote false flu treatments that could actually pose a risk to consumers. Many of these supposed cures contain unknown components, such as penicillin, which can cause dangerous allergic reactions in some patients. Dr. Ahluwalia advised flu sufferers to see their doctors rather than purchase potentially harmful medications online.
Not only can these false flu cures contain unknown ingredients, but they may also engender a false sense of security in patients.
"You are actually feeling safe and exposing yourself to the flu," Dr. Ahluwalia said, cautioning that the online meds were unlikely to protect people who came into contact with flu patients.
In addition to warning consumers to beware of faux flu cures, Dr. Ahluwalia cautioned against over-consuming processed foods that are heavy in salt. According to the doctor, experts have found that the majority of our salt intake comes from processed foods. Ingesting too much sodium can raise blood pressure and contribute to heart disease and other conditions.
"Heart disease is the biggest killer in the world," said Dr. Ahluwalia. He went on to note that cutting just a teaspoon of a salt a day could prolong one's life.
Watch the entire news segment on My Fox LA.
For more health tips from Dr. Ahluwalia, as well as videos of his FoxLA segments, visit his Facebook page.
Sonu Ahluwalia, MD, is an internationally-acclaimed board-certified orthopedic surgeon at La Peer Health Systems, as well as the Clinical Chief of Orthopaedic Surgery at Cedars Sinai Medical Center in Beverly Hills. His private practice specializes in sports medicine, shoulder, knee and hip surgery.
Dr. Ahluwalia completed his orthopedic training at the Harvard Combined Orthopaedic Surgery Residency Program in Boston, one of the most sought after training programs in orthopaedic surgery. He has completed three fellowships, two at Harvard Medical School and one at Lenox Hill Hospital in New York City, on shoulder surgery, sports medicine, and joint replacement and joint preservation surgery. For more information please call310.659.2910 or visit http://www.Ahluwalia.org.