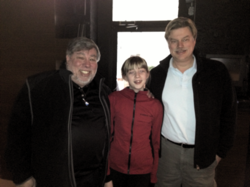 Now Mac OSX users can easily develop great apps for iOS and Android.
(PRWEB) February 28, 2013
NS BASIC Corporation has announced the release of NSB/AppStudio 3.0. It adds support for development on Mac OS and an IDE localized in 18 languages.
"We've always wanted a Mac OS version," said George Henne, President of NS BASIC Corporation. "It's the complete product: every feature, field and screen in our Windows edition is present, with a true Mac OS look and feel. It runs great."
AppStudio 3.0 also adds localized IDE support in 18 languages, including Arabic, Chinese, English, French, German, Indonesian, Italian, Japanese, Korean, Polish, Russian, Spanish and Thai.
Other new features in the release include support for jqWidgets, revised documentation and over 100 other improvements.
AppStudio 3.0 is a complete, easy to use development environment for mobile devices. BASIC and JavaScript are supported as development languages. With a familiar look and feel, AppStudio 3.0 provides a full, modern implementation of BASIC, with proper subroutines, user defined data types and event driven execution. The development environment runs on Mac OS and Windows.
Once apps have been tested in the browser, with a single click they can be deployed a device as a web app or compiled into a native app using PhoneGap Build.
AppStudio includes over 150 statements and functions. Support is provided for SQLite, geolocation, graphics and more. A full set of standard screen input and output objects and dialog boxes are included. A handbook, tutorials and lots of sample code are included in Wiki form.
The execution framework is based on JavaScript, HTML5 and WebKit. While knowledge of these technologies is not required, they give AppStudio considerable power under the hood. They also make AppStudio apps portable to platforms supporting these technologies.
With support for jQuery Mobile, Basic, JavaScript, CSS, HTML5 and PhoneGap, AppStudio is a complete and easy to use mobile development tool.
The product is available immediately for download from the company's website. A single user license is available for $99.95 USD, and includes both the Mac OS and PC versions. Enterprise and Education licenses are also available.
More about AppStudio
AppStudio lets JavaScript and VB developers use their experience to develop applications for iOS and Android devices. It provides a complete, powerful development environment enabling the creation of applications for the enterprise, business, personal productivity and education.
About NS BASIC Corporation
NS BASIC Corporation's tools are the most widely used third party tools for handheld devices. NS BASIC Corporation has been a leading creator of development tools for handheld devices since 1993. Close to 20,000 developers in over 80 countries use NS BASIC's tools.
More information:
AppStudio FAQ: http://wiki.nsbasic.com/AppStudio_FAQ
Videos: http://www.youtube.com/nsbasic
Comments from Users: http://www.nsbasic.com/app/kudos/
Purchase: http://www.nsbasic.com/order.shtml
For more information, please contact info(at)nsbasic(dot)com.