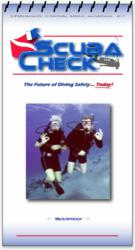 In 35 years of diving, one thing rings true. Diver preparedness prevents poor outcome. One replaced hose, one mouthpiece fixed, or even a misreading SPG, gives invaluable creditably to ScubaCheck.

Scuba Rob
Atlanta Scuba and Swim Centers
Atlanta, GA (PRWEB) February 28, 2013
ScubaCheck announces a breakthrough in scuba diving safety by improving divers immediate access to both critical safety information as well as the most comprehensive diver checklist available.
ScubaCheck is the first multi-page, waterproof, pocket checklist. It is designed to give safe and logical information to all levels of divers. Details and responses provide volumes of information without the bulk of carrying stacks of books and manuals.
Scuba equipment manufacturers, diving operators, hosting cities, and travel destinations, can have their own custom book produced with their own cover as well as inside back pages available for revenue generation from advertising sales. Have advertisers on your back pages to totally cover the expense of your entire book run! Great for fundraising!
ScubaCheck is licensed from CheckMate Aviation who has worked with the FAA for over 20 years and has gone on to win the prestigious FAA Flight Safety Award as well as having received the highest praise from almost every aviation publication and organization in the industry.
Checklists save lives in aviation - ScubaCheck will do the same in the scuba industry.
The company is located in Atlanta, GA and can be reached at 800-285-5205 or support(at)ScubaCheck(dot)com. As well as scuba information, their sister company publishes NauticalCheck another first, a waterproof pocket checkbook for the boating industry.