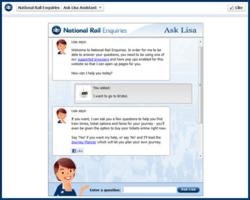 This is a chance for companies who have similar challenges to see firsthand how a virtual agent can benefit your organisation. - Chris Ezekiel Founder and CEO of Creative Virtual
London, UK (PRWEB) February 28, 2013
WHEN: Thursday, 7 March 2013 at 16:00 UK Time; 11:00 AM ET; 8:00 AM PT
LOCATION: Online, with free registration
SPEAKERS: Kathryn Daniels, Information Development Management at National Rail Enquiries, Maria Ward, Head of Web Services at The Virtual Zone and Chris Ezekiel, Founder & CEO of Creative Virtual
Customer experience management optimises customer interaction and conversations through every contact point in an effort to enrich the relationship customers have with their brand and gain customer loyalty. While conversations are still held with live agents via telephone and email, today customer interactions also take place on the web, on mobile devices and through social media channels like Facebook and Twitter. Therefore, businesses must have a strategy that provides seamless, cohesive and personalised messaging no matter how customers choose to engage. This webinar will look at how National Rail Enquiries, the definitive source of rail information in Great Britain, implemented 'Ask Lisa' across their web and social channels.
Why Attend:

Discover how intelligent virtual agents improved NRE's bottom line results.
Learn how virtual agents can be integrated across multiple channels including social.
Hear about the technology behind creating a virtual agent and how to implement one of your own.
Participate in an interactive Q&A discussion.
This webinar will benefit customer contact, customer service, customer experience, marketing and billing organisations that field hundreds of thousands of phone calls, live chat conversations and emails every year.
"National Rail handles journey planning, timetable and fare information and passenger information making it a prime candidate for an intelligent virtual agent. Customers can easily ask questions about their trip and receive instant answers to help them plan and complete their journey on the web and on Facebook," says Chris Ezekiel Founder and CEO of Creative Virtual. "This is a chance for companies who have similar challenges to see firsthand how a virtual agent can benefit your organisation."
For more information about this Creative Virtual webinar, please visit http://www.creativevirtual.com/upcoming-webinars.html.
About Creative Virtual
Creative Virtual is a leader in self-service customer experience management solutions for enterprises. Global organisations like HSBC, Verizon, CA Technologies, E*TRADE, Lloyds Banking Group, O2 and Virgin Media rely on our technology to optimise their customer support, sales, marketing and call centre teams, reduce costs, increase online sales, and achieve operational excellence across mobile, web, and social media channels. Since 2004, Creative Virtual has built the most advanced technologies in knowledge management, natural language processing, and virtual assistants to help businesses deliver intelligent, personalised customer experiences that reduce email and call volume, build brand loyalty, and increase customer engagement at a lower cost per conversation. Delivering accuracy of over 90% and call deflection of up to 50%, our platform is one of the most compelling self-service products in the world today. For more information about Creative Virtual solutions, products and software, please visit our website at http://www.creativevirtual.com.