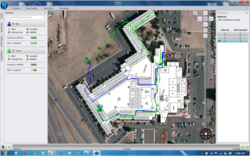 We are excited to finally see an indoor real-time positioning system that doesn't need to rely on infrastructure.
Greenbelt, MD (PRWEB) February 27, 2013
TRX Systems, an award-winning developer of unique indoor location products, today announced a new strategic partnership with NavtechGPS. NavtechGPS' broad distribution channels, system design, integration capabilities, and technical expertise will assist customers in integrating TRX Systems' NEON Indoor Location System and TRX Systems' sensor fusion and mapping technology within indoor and GPS-denied location environments.
"We are excited to finally see an indoor real-time positioning system that doesn't need to rely on infrastructure." says NavtechGPS Vice President and Chief Technology Officer Franck Boynton. "We look forward to supporting TRX Systems in promoting this innovative, and potentially life-saving, product."
TRX Systems has developed a unique indoor location system that delivers personnel location in areas where GPS is unreliable or unavailable without requiring preexisting or networked infrastructure. NEON greatly improves situational awareness through advanced sensor fusion, time-of-flight (TOF) ranging and mapping algorithms to deliver precise, real-time location of personnel in GPS-denied locations. While NEON delivers location in many areas where maps are not available, NEON can also take advantage of the abundance of available 3D floor plan information. NEON meets the requirements for event security, training, and other mission-essential applications that require a highly portable system.
NavtechGPS has a deep technical understanding of positioning technologies with nearly 30 years of practical, hand-on experience in applying GPS / GNSS and precision locating technologies for a broad spectrum of applications, including position, navigation and timing (PNT) applications for dismounted personnel. NavtechGPS has existing client relationships with military, commercial, government and research institutions, making it easy for customers to acquire the TRX NEON System for their applications.
About TRX Systems
TRX Systems delivers precise, infrastructure-free indoor location systems that safeguard personnel operating indoors and in locations without access to reliable GPS. The TRX Systems unique sensor fusion and mapping technology greatly improves situational awareness and command effectiveness by providing precise, real time 3D personnel location in areas that are GPS-denied. For more information on the TRX NEON Indoor Location Technology, visit: http://www.TRXSystems.com.
About NavtechGPS
NavtechGPS has over 25 years of experience in GPS/GNSS and precise positioning technology. As a reseller of GPS-related products, NavtechGPS delivers innovative solutions for military, commercial and research COTS integration projects.
NavtechGPS has been a critical team member on hundreds of projects and has helped its partners win competitive programs. NavtechGPS is also a world leader in GPS/GNSS education with more than 25 years of experience and a comprehensive list of course offerings. Our courses are taught by world-class instructors who have educated thousands of GNSS professionals since 1984. For more information about NavtechGPS, its products, services and seminars, please visit http://www.NavtechGPS.com. (A Woman-Owned Small Business 8(m)).