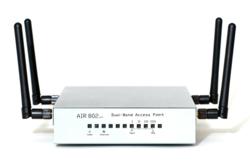 With powerful RF performance and the ability for traffic to be divided between the 2.4 and 5 GHz bands this is truly a quality device.
Aurora, IL (PRWEB) February 27, 2013
AIR802, an IT networking equipment manufacturer with a focus on quality products for small to medium businesses and large enterprises, today announced the AP25N01 Simultaneous Dual Band 802.11n Wi-Fi Access Point-Router in a Plenum-Rated Enclosure with PoE. It has been designed to be deployed above false or drop ceiling tiles in plenum airflow installations meeting fire safety codes and is built in the USA.
This concurrent dual-band access point operating in both the 2.4 and 5 GHz bands provides numerous benefits to commercial operations. One group of traffic can ride over the 2.4 GHz band while another application can use the 5 GHz band. Powerful RF performance makes this a truly desired device. It supports many operating modes, can function as a bridge, router or client. VLANs, virtual access points (with up to 4 SSID's) and management features such as HTTP/HTTPS web server, SNMP, Telnet and SSH are among the powerful features that make this a true enterprise class device. Perfect for deployment in above ceiling air plenums, it can also be shelf mounted or wall mounted.
Powering can be accomplished via an included 24vdc power supply or Power-over-Ethernet (PoE) is also supported. Designed with anti-static protection an external ground lug is provided for grounding. This new access point or wireless router is perfect for airports, coffee shops, convention centers, education (K-12 and universities), government offices, hospitals, hotels, manufacturing plants, marinas, medical offices, military facilities, office buildings, public parks, restaurants and even shopping malls with powerful radio performance, operational features and management abilities. Click to see further details of the AP25N01 or download a datasheet.
About AIR802
AIR802 manufactures wired and wireless networking equipment for government, education and commercial enterprises worldwide. Established in 2005, AIR802 is founded on strong ethics, high quality products and global service.