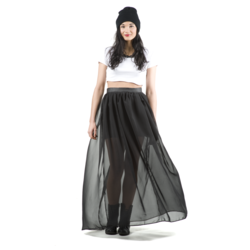 Chicago, Illinois (PRWEB) February 26, 2013
Shelby Steiner, an upcoming women's contemporary designer from Chicago, Illinois, has collaborated with Stock Mfg Co. to manufacture her first ready-to-wear piece available for a limited amount of time. From February 25 to March 11, the flowing layered maxi skirt priced at $76, half the retail price, is available online only at stockmfg.co.
Stock Manufacturing produces the highest quality products and sells them at the most affordable price possible made in the USA. They aim to promote talented designers and artists while strengthening American manufacturing and entrepreneurship. In complement to their own designs, &Stock is an accelerator for small and emerging designers to get their products produced and out into the marketplace, without paying the exorbitant up-front costs that come with manufacturing and selling a new brand. The process is simple, a designer submits a style, you vote on whether or not to make it. If enough commitments are made, the item enters production.
The designer and recent Columbia College graduate draws inspiration from all things in life with the intent to make the world a better place. Steiner's vision for transforming the role of a designer, by combining activism for change, is seen each season through authentic print designs and signature styling that includes heavy layering and mixed media. Whether the inspiration is derived from a controversial subject matter or simply something beautifying that people need to pay more attention to, she aims to bring awareness through fashion.
Last October, Steiner was featured in the headlining runway show "Fashion Takes Flight" during Chicago's fashion week. The versatile layered maxi skirt available for a limited time combines practicality with drama off the runway. This piece is ideal with a crop top and ankle boots, but versatile enough for nearly any occasion.
Click here to watch a video and learn more about Shelby Steiner.