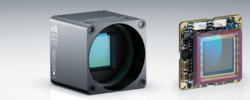 As members of the USB3 Vision Standard Committee, XIMEA helped develop the USB3 Vision standard sponsored by the AIA, the North American machine vision trade association and standards development body
Munter, Germany (PRWEB) February 27, 2013
XIMEA GmbH is pleased to introduce the machine vision industry's smallest 1.3 megapixel (Mpix) USB3 Vision grayscale and color cameras, offering high-resolution imaging at 60 frames per second (fps), SuperSpeed data interface rates of up to 5 Gbps, single planar board construction for OEM applications, and integrated I/O.
The MQ013MG-E2 grayscale and MQ013CG-E2 color USB3 Vision cameras are based on e2V's Sapphire EV76C560 sensors, which offer either global shutter or rolling shutter for improved signal-to-noise ratio (SNR), 62 db of dynamic range, and support up to four separate user-configurable regions of interest.
Measuring just 26.4 x 26.4 x 21.6 mm and weighing a mere 26 g, the xiQ series cameras retain the title of world's smallest industrial USB3 Vision camera as well as the only industrial USB3 Vision camera to be constructed on a single planar board, simplifying OEM implementations. XIMEA's engineers accomplish this by offloading LUT and other common camera controls for industrial applications to XIMEA's free xiAPI software running on the host PC. And unlike any other USB3 Vision camera manufacturer, XIMEA offers cameras that are plug-and-play compatible with PCs running Windows or Linux, as well as Unix-based Mac computers.
xiQ cameras include all standard I/O and features demanded by industrial imaging customers, including global shutters, integrated opto-isolated trigger input and illuminator control output, and on-board non-volatile memory for user settings and custom data. And like all of XIMEA's industrial cameras, each xiQ series ships with application programming interfaces (APIs) for 30 of the most common image-processing software programs, including libraries from Cognex, Matrox, National Instruments, MVTec, and many more.
"As members of the USB3 Vision Standard Committee, XIMEA helped develop the USB3 Vision standard sponsored by the AIA, the North American machine vision trade association and standards development body," explains Max Larin, co-CEO of XIMEA.
The MQ013MG-E2 grayscale and MQ013CG-E2 color industrial USB3 Vision cameras are available today in quantity.
About XIMEA
XIMEA designs, customizes, and manufactures leading-edge cameras for customer and OEM applications in machine vision, motion control, assembly, robotics, industrial inspection, and process control, as well as high-quality CCD-based cameras for life-science, security, and defense applications. Our cameras are based on powerful, flexible camera technology platforms that include application programming interfaces (APIs) for more than 30 of the most common image processing libraries. Customers can further modify XIMEA cameras by selecting specialized optics and data interfaces, while OEM customers can leverage XIMEA's Custom Engineering services for highly optimized imaging solutions. Learn more about how XIMEA can help keep you one step ahead at http://www.ximea.com.