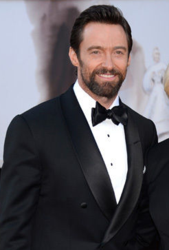 ...we wanted to take a look at those who were different, yet still embodied that 'Old Hollywood' feel.
San Francisco, CA (PRWEB) February 27, 2013
Ties-Necktie, a leading authority on men's fashion and style has announced their picks for the best-dressed men at the 2013 Oscars to coincide with a series of articles about how they got their look.
"Each year, we anxiously anticipate watching the Oscars here at Ties-Necktie," says company founder Hendrik Pohl. "We're huge fans of cinema, but there's more to it than that. Oscar night is when people often pull out all the stops with their looks, and we always look forward to the black tie ensembles that walk the red carpet. This year was no exception, as some of the best-dressed men in Hollywood made it out to the show and certainly did not disappoint."
The series consists of five articles, each of which highlights one of the best-dressed men at the Oscars this year. Bradley Cooper and Hugh Jackman are both given the spotlight for their exceptional usage of Tom Ford tuxedos, while Daniel Day-Lewis' midnight blue tux is highlighted as well. In addition to these three actors, host Seth McFarlane and actor Eddie Redmayne are highlighted.
"It certainly wasn't easy narrowing down a list of best-dressed men to just five, given the fact that there were so many actors that really succeeded with their looks this year," says Pohl. "Nevertheless, we wanted to take a look at those who were different, yet still embodied that 'Old Hollywood' feel. The Tom Ford tuxedos, for example, did just that with their wide lapels and overall classic look and feel. This seemed to be the year for a throwback to classic black tie attire, and we couldn't be more pleased with how these actors pulled it off."
In addition to publishing article series', Ties-Necktie.com is one of the world's foremost retailers of men's ties and accessories. The company publishes one article series per month, many of which relate to industry trends and celebrity fashion.
"The article series' are a direct extension of what we do as a company," says Pohl. "Our customers are as fashion forward as it gets, and they want to learn as much as possible about how to dress like the celebrities they see on TV. The more we can do to help them reach their goals, the better. We love it when awards shows come around, because there's no better way to analyze the fashion of a particular celebrity than when they're walking the red carpet."