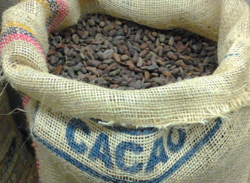 Like the Patanemos beans that are from a small village in the Amazonian jungle …. It takes the sourcing agent 2 days travel by canoe, going against the current, to reach the village and buy the beans – now that's a cool story! Says Tom Schumacher – Owner
Denver, CO (PRWEB) February 28, 2013
By opening this new market, the smaller community owned farms or small farmer owned Co-ops gain an opportunity to sell their cocoa beans at a higher price and realize more profits from those sales. CocoaJoe – Premium Drinking Cocoa endeavors to use beans only from these 'Fair Trade' or 'Ethically and Sustainably Traded' cocoa bean farmers and cooperatives. These smaller farms are not able to compete with some of the larger growers and Co-ops, due to the high costs of certification and licensing charged by most governments. Due to these huge costs, these smaller entities are restricted to selling either locally or accepting lower prices to sell their cocoa beans on the international markets.
With the healthy properties of cocoa beans proven through scientific research – it is thought by some that the market potential for Drinking Cocoa could be considered to be as large as the market for coffee or tea! Plus, due to the fact cocoa beans have been scientifically proven to contain many healthy properties and benefits – no crazy marketing claims are needed – it could easily compete in the 'Health Drink' market too!
'Drinking Cocoa'(also known as 'Brewing Cocoa') is an innovative use of the cocoa bean. Offering 100% naturally processed cocoa beans – roasted and ground – then brewed into a healthy, dark chocolate tasting beverage. Since Drinking Cocoa contains no caffeine – but still offers an energy boost from a natural stimulant called Theobromine, it will attract a lot of interest from people looking to lose the 'sour' caffeine stomach but still gain focus and energy. Drinking Cocoa contains high amounts of vitamins, minerals, antioxidants and flavanols – it can be a great way to add a healthy dark chocolate flavor to any diet without the guilt of sugar and dairy laden bon-bons!
"We look to use the highest quality cocoa beans we can find from farms that have really cool stories." Says Tom Schumacher – RoastMaster and Owner of CocoaJoe, "We presently offer beans from Venezuela that have some great stories behind them. For instance, the Patanemos beans that are from a small village in the Amazonian jungle that was started by slaves who escaped and built a little town they named 'Pas Tenemos' – which means 'We Have Peace'. It takes the sourcing agent 2 days travel by canoe, going against the current, to reach the village and buy the beans – now that's a cool story! … and if we can better those farmers' lives and get everybody drinking cocoa – then it's a Win/Win!" he added.
This exciting new use of the cocoa bean is actually not a 'new' use at all, but a re-introduction of a beverage that, until the early 1800s, was considered a norm. Many cultures have imbibed cocoa for centuries. CocoaJoe – Premium Drinking Cocoa is an easy way to add this ancient beverage back in to a healthy daily diet. Since there are thousands, if not millions, of people that are searching for an alternative beverage that they safely add to their diet (as with adding anything to a daily diet – check with a health professional with any and all concerns) there is market potential in the millions, if not billions of dollars!
About CocoaJoe, LLC
CocoaJoe is a Denver-based company that produces hand-crafted, artisanal batches of 100% natural and organic premium brewing cocoa. The company is dedicated to educating the world on the health benefits and great taste of this new, yet ancient, beverage. CocoaJoe endeavors to improve the world one cup at a time. The company is committed to purchasing organic cocoa beans from Fair Trade and Ethically and Sustainably Traded farms and co-ops. To learn more about CocoaJoe or to order their premium, organic brewing cocoa visit http://drinkcocoajoe.com