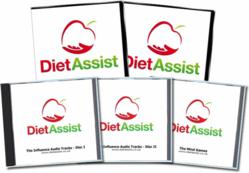 DietAssist customers will be able to shop in confidence with the full backing of the Amazon brand
(PRWEB UK) 26 February 2013
Hypnotension Ltd, the company behind bespoke diet support programme, DietAssist, is delighted to announce that world renowned e-commerce site Amazon is now selling its DietAssist DVD and CD products.
Amazon has ordered the first wholesale batch of DietAssist products and these are expected in stock over the next few days. DietAssist hopes to build its brand reputation with the internet's retail giant. DietAssist was launched in December 2012 and recently listed on AmazonLocal, and this news is another big step for the weight loss support programme.
With marketplaces across the globe, Amazon will allow the DietAssist products to be accessed by millions of potential customers. It also offers consumers a safe and trusted environment in which to shop, something which may otherwise deter shopping on an unknown website.
Founded in 1994, Amazon was launched by American entrepreneur Jeff Bezos and has gone on to become the world's leading online retailer.
Although DietAssist has only been launched a few short months, their expansion has been rapid. The product started as an online product, and has grown now to include DVDs and CDs and a live weight loss group pilot project.
"This is another exciting extension to our brand. Amazon is undoubtedly a household name when it comes to online e-commerce, and we are thrilled to have our products associated with the brand," said Paul Howard, co-creator of the weight loss support programme. "Along with our AmazonLocal venture, this gives us the perfect opportunity to promote our products to a larger demographic than we could otherwise have reached. Customers will be able to shop in confidence with the full backing of the Amazon brand".
The DietAssist Programme helps people who want to lose weight, but who find dieting hard work. It teaches people how to take control of their cravings so that slimming becomes easier and more successful.
DietAssist strengthens motivation and resolve and creates the optimum psychological state for dieting, and it works alongside any weight loss programme or sensible eating plan.
DietAssist is available as an online programme or in a 2 DVD, 3 CD set.