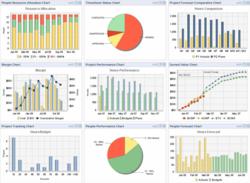 Dulles, VA (PRWEB) February 28, 2013
Unanet, a developer of services automation software that helps project-based organizations manage people and projects for improved efficiency and effectiveness, is pleased to announce its Silver Sponsorship of ProformaTECH. This the premier technology conference for finance, accounting and treasury professionals that will be held on March 20 at the Hyatt Regency San Francisco Airport Hotel.
ProformaTECH 2013 combines educational sessions, best practices and expert advice with a showcase of real-world applications across multiple technologies and industries.
Exploring topics ranging from cloud computing adoption best practices to redefining the IT-Finance relationship to corporate performance management, the conference provides an interactive peer-to-peer setting to network, share knowledge and learn how world-class companies are transforming their enterprises to drive growth, carve out operating costs, and create competitive advantage in an environment of accelerating hyper-competition.
"We're extremely excited about our inaugural ProformaTECH Conference," commented John Kogan, CEO of Proformative. "Our goal is to compress as much value for attendees as possible in one day by merging education with real-world technology solutions, all under one roof. They'll have the unique opportunity to learn about a wide range of topics from industry leaders, and then immediately follow up by talking directly with leading solution providers."
Unanet will be at ProformaTECH on March 20 at the Hyatt in San Francisco.
About Proformative
Proformative is the largest and fastest-growing online community and resource for senior level corporate finance, accounting, treasury and related leaders. Proformative (http://www.proformative.com) connects the world's corporate finance leaders to provide instant advice and insights on the tough financial and strategic challenges they face everyday. Proformative is the first online professional network specifically designed to help corporate finance professionals be successful in their jobs and careers. Proformative has more than 600,000 corporate finance and business professionals in its fast growing network. Proformative is headquartered in Silicon Valley, CA.
About Unanet
Unanet provides superior Services Automation software which maximizes staff utilization, reduces administrative costs by 90%, improves invoicing by 10X, and supports forward decision-making for improved profitability. Unanet's more than 950 customers include government contractors, consulting/services organizations, internal IT (Information Technology), and high-technology product companies. Unanet's suite includes resource management, opportunity/project management, timesheets, expense reports and collaboration with real time information and analytics, project costing, billing and revenue recognition. With easy to use interfaces, and outstanding support. Unanet is available either as an On Premise (self-hosted software), or an On Demand License (Cloud).