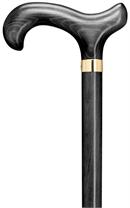 Lady Lake, FL (PRWEB) February 28, 2013
Humans use canes from Walking-Canes.Net for several different reasons. Some buy them after a minor injury and some use them permanently. The trend is to associate canes with the elderly, but today are used by many. Users that needs extra support while walking can benefit from the use of a cane, regardless of the age. Canes are available in many sizes and styles to meet every need. For example, a taller individual would need a tall walking cane and a heavier user would need a heavy duty cane. Cane users who have balance issues would benefit from a quad cane. Whatever the particular support need, there is a cane available to meet it.
There are some signs that will let one know when to start considering the use of a cane. When that user begins to have problems keeping the balance or bearing weight, it is a good time to consider getting a cane. If one is compensating in inappropriate or harmful ways such as holding on to furniture or walls, that is another sure sign that it is time. Improper posture to compensate for one-sided weakness can cause back or hip pain due to poor body alignment. A cane can help to relieve these problems. Need to measure for a cane read about it here.
There is no need to sacrifice keen sense of style when using a cane. Canes are available in so many styles that one is sure to find a walking cane that compliments the user. Whether one likes the classic and graceful look of wood or the elegant look of fabric, a cane can be found that suits the user of the cane. Many are available in every color that one can imagine and many have countless patterns available as well.
A cane may be the perfect accessory to provide that support. It will allow a user to keep the independence at the same time. When purchasing a cane, make sure that it suits the user well. Find one that appeals to sense of style as well as one that fits properly. If one is tall, get a tall walking cane. If one is short, the cane may need to be cut to size. These are important details because they will ensure the overall comfort when using the cane. After all, the reason for using the cane is to help one be more stabled, balanced and comfortable.
For more information, call customer service at 1-888-928-1774 and the customer support team can help.