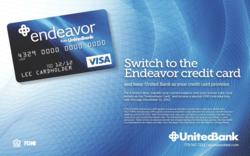 infinitee has a wide range of expertise, specifically in retail and product development, which was exactly what we were looking for from our agency partner.
ATLANTA, GA (PRWEB) February 28, 2013
infinitee, a full-service marketing and advertising agency in Atlanta developed a brand identity and product launch strategy for United Bank's Endeavor credit card. United Bank, a community bank located just south of Atlanta, launched the Endeavor credit card in July 2012. A first for the bank, the Endeavor card was also the first of its kind in the marketplace as it is fully backed and supported by internal operations. United Bank's goal was to not only launch a new product for its market but to set a precedent of better service for credit customers in the local, independent bank community. This goal was understood and achieved through the expertise infinitee provided.
"infinitee has a wide range of expertise, specifically in retail and product development, which was exactly what we were looking for from our agency partner. We didn't want someone who only knew banking; we wanted someone that would push us to think outside of the box," said Lori Martinez, Senior Vice President of United Bank.
infinitee's comprehensive product launch strategy for the Endeavor card included: key audience identification, developing the card name and logo, promotional collateral, as well as a multi-tiered direct mail campaign with a focused "Switch to the Endeavor card" message.
Consumer ads and billboards were strategically placed in local markets and within a matter of days United Bank was fielding calls from consumers asking about the new credit card.
United Bank opened 250 new accounts and averaged 10 new applicants a day in the first four weeks of the campaign - an unheard of response rate for a local bank. In the six months since the launch, a total of 1,000 new accounts were opened and United Bank has continually exceeded its monthly projections for the program.
Phase two of the Endeavor card is being developed for launch this summer.
For more information about infinitee, call 404-231-3481 to speak with Founder and CEO, Jocelyn Smith, visit http://www.infinitee.com or Like us on Facebook.
About infinitee
infinitee is a full-service marketing and advertising agency that understands how to improve brands, communications and customer experiences. With a focus on retail, real estate, B2B, destination marketing, education and financial services, their strategic and creative solutions build brand equity and drive sales for companies across all industries. Infinitee's expertise has proven invaluable to national and southeast regional brands wishing to strengthen and grow their customer base, including: Tanger Outlet Centers, Cousins Properties, Parkway Properties, PM Realty Group, Athens First Bank & Trust, King's Ridge Christian School, Diversitech, and Royal Oak.
Through all facets of advertising, collateral, digital media, or brand strategy, infinitee keeps the work real, the relationship fun, the price right and the momentum high, as they go beyond client expectations. Let infinitee transform your communications.
Contact: Jocelyn Smith Founder, CEO infinitee, Inc. 3400 Peachtree Rd., Suite 921 Atlanta, GA 30326 404-231-3481
About United Bank
Originally chartered as The Bank of Zebulon - Zebulon, Georgia, in 1905, United Bank has prospered and grown into a full service financial institution, offering a range of services from traditional banking to Internet securities trading. Today United Bank has 17 offices south of Atlanta. United Bank provides quality customer service and offers innovative, yet sensible financial solutions for its customers. Their commitment to quality service goes beyond their customers to a real interest and concern for serving their communities at large.