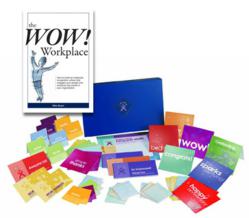 Grand Rapids, MI (PRWEB) February 27, 2013
Terryberry, a global business based in Grand Rapids, Michigan specializing in innovative employee retention strategies and products, is pleased to announce its Recognize Me performance power kits – colorful on-the-spot recognition kits for managers and human resources pros – that are the perfect tool to be leveraged on Employee Appreciation Day this year.
Founded in 1995 by Recognition Professionals International as a way to get all employers in every industry to focus on employee recognition, Employee Appreciation Day is an official day in the work year that happens the first Friday of every March. It is a day dedicated not only to letting employees know that they are valued and that their contributions in the work world matter, but also for developing an "attitude of gratitude" within the HR and management level of companies – helping management professionals to keep in-mind that everyone in a company needs to feel validated and acknowledged for the hard work, dedication and loyalty they bring to their jobs, on an ongoing and continuing basis.
"A business can only be as good as its people," explains Mike Byam, Managing Partner at Terryberry. "Yet often times, managers and leaders get so caught up in day-to-day duties and responsibilities that they forget about the hard work and intensity experienced by those they lead and manage. Bonuses and raises are great, but those are usually few and far between. Employee appreciation and recognition is about cultivating a culture of high regard for every worker, and letting them know that you see their efforts and value their contributions. Our Recognize Me spot recognition kits offer fast and easy materials to do just that, and they're truly effective."
Recognize Me performance power kits from Terryberry provide on-the-spot recognition for deserving employees. The most affordable INTRO kit starts at $42. These time-saving and colorful kits feature notes, cards, sticky pads and more offering praise, rewards and milestone observations, as well as a desk-top organizer for all the materials. Expanded kits feature a greater selection of messages and themed recognition supplies, culminating with the WOW! ESSENTIAL kit containing The WOW! Workplace book written by Mike Byam – a handy edition featuring step-by-step instructions, advice and insights on how to build a nimble, vital recognition culture that can transform your company atmosphere from the inside out.
With Employee Appreciation Day literally right around the corner, now is the time to get onboard with employee recognition and spark the positive energy and synergy that lies dormant in every organization, waiting to propel your business to its next level. You can learn about free employee recognition ideas from Terryberry to help you get started here.
About Terryberry
Terryberry serves more than 25,000 clients throughout North America and Europe. Family-owned for four generations, Terryberry specializes in employee recognition programs, employee appreciation gifts and products to keep employees engaged and motivated and companies growing in positive directions. For more information, please visit http://www.terryberry.com.