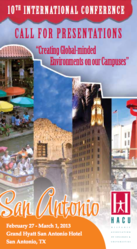 Ameritas Hispanic Pathways unlocks the full potential of your Hispanic students!
Irvine, CA (PRWEB) February 27, 2013
To assist in increasing higher education enrollment and graduation within the Hispanic community, Ameritas College Educational Services will unveil its unique Bilingual Education and Student Support System designed for two and four-year colleges and universities at the upcoming International Conference of the Hispanic Association of Colleges & Universities (HACU), February 27th through March 1st in San Antonio, Texas.
The Ameritas focus at HACU will be to build awareness in regards to the expanded opportunities for our colleges in the U.S. with the burgeoning Hispanic population. Ameritas Hispanic Pathways brings a unique Dual Language English Immersion (DLEI) program to the Latino student that meets them "where they are" from both a language and cultural perspective, and delivers a much improved system for collegiate success.
The Ameritas Hispanic Pathways program represents a comprehensive bilingual outreach, including enrollment, student services, and dual language course content for colleges. The goal at the HACU conference is to identify and select two and four-year institutions interested in improving their Hispanic enrollment, retention, and graduation through a partnership with Ameritas.
Targeted at the fastest growing minority population in America, Ameritas Hispanic Pathways seeks to ensure that a student's language skills do not impede learning, but instead enhance potential advantages for them both academically and career wise. The long-term objective of the Ameritas program is to help create a skilled and robust bilingual workforce for the future through its Hispanic graduates.
HACU's upcoming conference in San Antonio serves as an ideal venue to introduce the Ameritas Hispanic Pathways bilingual education program, showcasing its exceptional benefits for Hispanic students and the educational institutions they attend.
For more information on Ameritas Hispanic Pathways visit http://www.AmeritasHispanicPathways.net.
About Ameritas Hispanic Pathways
The Ameritas Hispanic Pathways is a curriculum pioneered at Ameritas College of Brandman University, the revolutionary dual-language program featured in the New York Times, Chronicle of Higher Education, and Inside Higher Education, where they are currently enrolling students in associate and bachelor's degree programs on Brandman campuses in Southern California.
About Ameritas College of Brandman University
Ameritas College is the newest college of Brandman University and continues the long tradition of academic excellence with a focus on serving the educational needs of the U.S. Hispanic community.  With personalized academic counseling and flexible course schedules to accommodate Latino adults' working lives and needs, Ameritas College offers an accessible and affordable, high-quality college education. For more information on Ameritas College visit http://www.ameritas.brandman.edu.
TO MEDIA: To request photos or arrange interviews with experts please contact Esmeralda Ramirez-Rueda at (310) 853-2170