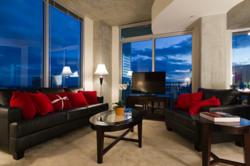 "Corporate travelers and individuals deserve something more than a cookie-cutter, lowest-common-denominator approach. And they deserve the kind of responsiveness and service they're used to in other areas of their lives." Scott Remmel
Charlotte, NC (PRWEB) February 27, 2013
STAY Furnished Apartments, formerly ExecNet Properties, recently launched as a standalone company focused on raising the bar for short-term housing throughout major markets in North Carolina.
While the STAY name is new, the company is built on the proven experience and success of ExecNet Properties, first in Colorado (where the company still operates) and then in North Carolina. ExecNet Properties expanded into North Carolina in 2010 – a homecoming for company president Scott Remmel. "I'm from North Carolina. My dad was in the furniture business, and as kids we used to go to the High Point Furniture Markets with him."
That may be part of the reason Remmel decided "it was time for someone to approach corporate housing with a sense of style, and a complete commitment to service." In his view, "Corporate travelers and individuals deserve something more than a cookie-cutter, lowest-common-denominator approach. And they deserve the kind of responsiveness and service they're used to in other areas of their lives."
To that end, STAY has perfected a business model that combines the efficiencies and advanced capabilities of leading-edge technology with a very personalized approach to meeting customer needs – not to mention a companywide focus on design and style¬.
According to Remmel, STAY uses "the most advanced software system in the industry. Not only does that allow us to streamline and speed processes, but it also provides a high level of consistency. We understand that nobody likes surprises when they open the door – or open the invoice." STAY is also part of GO Furnished Housing Providers, so the company can seamlessly provide clients with services covering local, national and international destinations.
The human part of the equation is equally important, says STAY Sales Director Connie Logelin. "It's not just technology for the sake of technology. For instance, we take the time to learn about the individual needs of each guest. We have a conversation to find out what kind of amenities they're looking for – do they have a dog? Do they want easy access to a gym? What part of town do they want to be in? We combine that with our first-hand knowledge of the markets, the ins-and-outs of different neighborhoods, and we come up with the perfect fit."
That perfect fit will include a very carefully selected temporary home outfitted primarily with company-owned furniture, electronics and housewares. "We've found that when those things are rented, there tends to be a really boring sameness," says Remmel. "By investing our resources in things we own, we can create much more interesting, much more upscale looks. It's not just an apartment anymore, it's a place to call home."
In the furnished apartments in Charlotte, NC as well as in other locations, this personal touch extends to an impressive array of amenities that greet each guest – everything from luxurious sheets, flat-panel TVs and wireless Internet to a complimentary bottle of wine, snacks and even treats for 4-legged companions. It also includes procedures designed to make life easier for the person making the arrangements. As Logelin puts it, "we provide a turnkey solution. We serve as a single point of contact for all housing needs, we can set up direct billing for corporations, we offer flexible lease terms and competitive pricing. The bottom line is, we want everyone to stay happy, and stay inspired."
Remmel says he was "really excited to come back here and offer something innovative. We're locally focused, and we've handpicked very interesting and attractive properties and furnishings. And as a member of GO Furnished Housing, we can cover our client's national needs as well. It definitely offers a higher level of value for our guests."
For more information:
STAY Furnished Apartments
1867 Scott Futrell Dr.
Charlotte, NC 28208
704.392.9977
stayfurnished.com
stay.informed(at)stayfurnished(dot)com