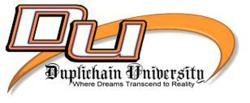 Lake Charles, Louisiana (PRWEB) February 28, 2013
Duplichain University criminal justice faculty attended and presented at the National Crime Symposium at the New Orleans Marriot Hotel from February 25th to March 1, 2013. The National Crime Symposium theme was "Breaking the Cycle of Crimes in Our Communities". It focused on building a trust between the criminal justice system and the communities they serve. Another focus was on prevention, intervention, solutions, collaboration, partnerships, understanding, and networking. Duplichain University faculty presented on "Economics and Crime".
Duplichain University is a global online learning institution offering undergraduate and graduate degrees in education and criminal justice. Duplichain University offers an innovative learning approach in a supportive, nurturing and flexible academic environment. Students enrolled in Duplichain University develop, refine, strengthen, and enhance their skills in a discipline of their choosing, while maturing academically, intellectually, and personally.