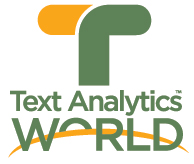 San Francisco, CA (PRWEB) February 27, 2013
Text analytics trends and techniques are coming in for close scrutiny at Text Analytics World 2013 in San Francisco, CA. From April 17-19, 2013, industry leaders will be taking a step back from the day-to-day hype to show text analytics professionals where the truly rewarding discoveries lie.

Early bird savings end March 1, 2013 – don't miss out the chance to save up to $400 on registration prices.
Text mining, election analysis, knowledge organization – the text analytics world is taking off with new developments in both theory and practical applications.
Fortunately, the expert speakers and international analysts at TAW 2013 are in the thick of all this new activity and are ready to share their rich depth of experience. In over 25 sessions, they'll be using real world case studies from Adobe, eBay, the University of Tunis, GE, Walt Disney and more to explore the best new ideas in both theory and practice:
Fraud detection and medical record analysis
The use of text analytics in the Tunis Revolution and 2012 U.S. election
Analyzing and visualizing text discussions
The potential gold in text mining
Partnering text analytics with knowledge management
Theoretical ideas in taxonomy and modeling how humans think
TAW 2013 is designed for hands-on professionals, developers new to the field, and business leaders who want to understand what real value text analytics offers. Attendees walk away with concrete examples of deployed text analytics from top practitioners in the field. They see, hear and learn how leading organizations are employing the latest ideas to deliver outstanding business results.
Register before March 1 for Text Analytics World in San Francisco, CA (April 17-19, 2013) and save up to $400 off the full price.
View the full agenda and see all the in-depth sessions available.
About Text Analytics World
Brought to you by the producers of Predictive Analytics World, Text Analytics World is a full-spectrum conference that covers all aspects of text analytics. To solidify the business value you gain from text analytics, TAW delivers the latest methods/techniques, demonstrating their deployment across a wide range of industries, large and small. TAW also explores a full range of vendor solutions and various forms of text analytics enterprise deployment.
About Rising Media
Rising Media is a global events producer excelling in Internet and technology-related conferences and exhibitions. Rising Media-produced events include Data Driven Business Week, eMetrics Summit, Context Conference, Conversion Conference, DemandCon, GAUGE, Predictive Analytics World, Text Analytics World, Affiliate Management Days, Building Business Capability, Social Media Economy Days, Web Effectiveness Conference, Search Marketing Expo, SemTech and Social Gaming Summit in the US, Canada, UK, France, Germany, Sweden, Finland and Australia.