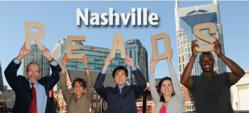 "This vibrant novel is a great example of a book that sparks both imagination and contemplation," Mayor Karl Dean said
Nashville, TN (PRWEB) February 28, 2013
Nashville Public Library presents Yann Martel, author of Life of Pi, to kickoff the Nashville Reads campaign. Martel will present a lecture March 2 from 3:00 p.m. – 5:00 p.m. at Nashville Public Library. Mayor Karl Dean will provide the introduction.
What: Nashville Reads author talk with Yann Martel
When: Sat. March 2, 3:00 p.m.
Where: Nashville Public Library, 615 Church St.
About Nashville Reads
Nashville Reads is a citywide reading campaign to encourage teens and adults to read the same book at the same time to create a shared experience of reading in the city. The book selection for this spring is Life of Pi.
Nashville Reads is a program of the Nashville Public Library and is supported by many community institutions. It is a partnership between the office of Mayor Karl Dean, Parnassus Books, Friends of the Library, Humanities Tennessee, Houghton Mifflin Harcourt and the Nashville Public Library Foundation.