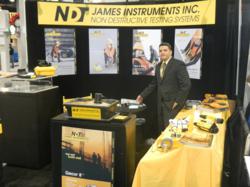 'We want to thank all the customers we met at this event and look forward to implementing the feedback we been given,' says Michael Hoag, President of James Instruments Inc.
Chicago, Illinois (PRWEB) February 28, 2013
James Instruments Inc. manufacturer of the world's most advanced Non Destructive Test Equipment for construction materials exhibited at the World of Concrete February 4th to the 8th, 2013. This is the twenty eighth year the company has exhibited at the World of Concrete. The company has found the show an exciting place to meet with customers, present the latest technology and learn about the latest developments in the industry.
The World of Concrete was introduced to the commercial construction industry in Houston, Texas in February 1975. Presented were 77 exhibiting companies in 22,200 net square feet of exhibit space with 1,550 construction industry professionals in attendance. 39 years later, World of Concrete now boasts more than 1,300 exhibiting companies and had over 50,000 registered industry professionals in more than 500,000 square feet of exhibit space. The addition of World of Masonry and Technology for Construction expanded the range of attendees to include these important segments of the construction industry.
This show represents a significant chance for the James Instruments Inc. customers to try the equipment and to provide feed back on what they are looking for. On display were:
Windsor Probe™ Test System: A Non Destructive Test System for Concrete Compressive Strength in the field. Safe, Quick, and Simple to use it is the most effective method of Concrete Compressive Strength Testing on Site. The System performs equally well on standard and high performance concrete. Conforms to ASTM C-805 and other International Standards.
Windsor Pin™ Test System: A unique instrument for measuring the strength of new or existing concrete, mortar and other construction materials in the field utilizing the established principle of resistance to penetration. A unique chuck allows testing of mortar joints compressive strength in the field. Conforms to ASTM C-803.
Rebarscope®: Built for the professional this is the most Advanced System for finding the location, depth, and size of reinforcement bar, post tension cables, copper and conduit w/ Cover mapping feature, Storage, and upload to PC!
Mini R-Meter™: Ruggedized for tough field use, this economical hand held unit is used for finding the location, estimates either depth, or size of reinforced rebar, post tension cables, copper and conduit!
V-Meter™ MK IV: The most advanced System for Ultrasonic Pulse Velocity in Concrete, Wood, Ceramic and other Coarse grained and Construction Materials. This test method rapidly and easily allows you to locate cracks, voids, rot and other areas of inhomgenity in the material under test. Complete System includes transducers, instrumentation unit, cables and software for PC, Conforms to ASTM C - 597 and other standards.
Trident™: A Microwave Meter Used for the Rapid Determination of Moisture Content in Sand and Other Fine or Coarse Aggregates. It is fast and easy to use as well as completely portable.
James Instruments Inc. is the leading manufacturer of non-destructive test equipment for construction materials, specifically concrete, ceramic, wood, masonry, mortar, gypsum and other coarse grained materials. We supply the instruments that: measure strength, both compressive and tensile, locate rebar and other objects in concrete and masonry, determine density and analyze materials ultrasonically, analyze corrosion and, finally, determine moisture in concrete and other construction materials. And more. James Instruments -- rugged, quality equipment for field use -- backed by factory service and an ongoing program of research and development.
World of Concrete is the industry's ONLY annual international event dedicated to the commercial concrete and masonry construction industries. Featuring indoor and outdoor exhibits with the industry's leading suppliers showcasing innovative products and technologies, exciting demonstrations and competitions, and a world - class education program.