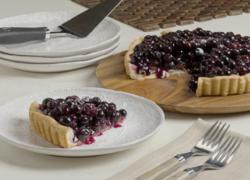 San Carlos, CA (PRWEB) February 27, 2013
Summer-fresh blueberries are piled high in this blueberry tart recipe from the Chilean Blueberry Committee. Sweet, moist, and delicious, this recipe is bursting with wholesome blueberry goodness.
Tangy with just the right sweetness, the fresh blueberry taste lingers on the palate. Rich and satisfying, and beautiful to behold, this quick and simple tart is packed full of powerful antioxidants and other important nutrients that are plentiful in fresh, ripe blueberries from Chile.
One such nutrient, polyphenols, are known as "brain food" by nutrition experts like Jonny Bowden, Ph.D., who cites studies that show the natural compounds in fresh blueberries not only combat disease, but "help neurons in the brain communicate more effectively," he says. Bowden quotes research at the USDA Human Nutrition Research Center on Aging that "firmly establishes blueberries as a memory-protecting food" that can improve brain function.
Chile's blueberries are ripe and readily available in markets throughout North America.
More recipes for fresh blueberries from Chile are available at http://www.fruitsfromchile.com/blueberryrecipes/.
CHILEAN BLUEBERRY TART
PREP TIME: 22 minutes active preparation; 3.5 hours refrigeration
INGREDIENTS
For Crust:
1¼ cups all-purpose flour
¼ cup granulated sugar
¼ tsp. salt
8 Tbsp. cold unsalted butter (cut into ⅛ inch bits)
1 large egg yolk
1 tsp. vanilla extract
1 Tbsp. water
For Filling:
8 cups fresh Chilean blueberries, rinsed
2 Tbsp. lemon juice
3 Tbsp. orange juice
4 Tbsp. cornstarch
¾ cup granulated sugar
Pinch of cloves
1 tsp. vanilla
INSTRUCTIONS
For Crust:
In a medium-size mixing bowl, whisk together the dry ingredients, then cut in the cold butter, using a pastry cutter or two forks. In a small bowl, whisk together the egg yolk, vanilla, and water and stir into the dry mixture; the dough should be crumbly and hold together when squeezed. Roll out the dough, or press it into the bottom and up the sides of a 10-inch round (preferably with a removable bottom) tart pan. Prick it all over with a fork and refrigerate for 30 minutes or longer.
Preheat the oven to 375 degrees F.
To prepare a blind-baked, ready-to-fill crust, weigh down the crust with pie weights, a nesting pie pan, or line with parchment and fill with rice or dried beans. Bake for 10 to 12 minutes, until the crust is set. Remove weights, extra pan or parchment and return to the oven to bake for another 6 to 8 minutes, until golden brown. Remove from the oven and cool completely before filling.
For Filling:
In a medium sauce pan over low heat, blend juices with cornstarch until cornstarch is dissolved. Add 4 cups of the blueberries. Increase the heat and bring mixture to a boil until juices are clear and bright in color. Let mixture cool one minute. Stir in vanilla and remaining blueberries.
Pour into pre-baked pie tart shell. Refrigerate for three hours prior to serving.
Serves 12
Nutrients Per Serving
227 calories, 2 gms protein, 8 gms fat, 72 calories from fat, 5 gms saturated fat, 20 mg cholesterol, 3 gms dietary fiber, 51 gm sodium
# # #