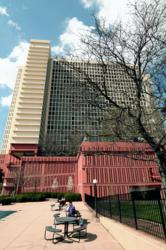 Perkins Eastman's innovative designs and sustainable approach align with our vision for the property.
New York, N.Y. (PRWEB) February 27, 2013
Faros Properties, a commercial real estate investment firm headquartered in New York, N.Y. with locations in Boston, Pittsburgh, and the Greater New York area including Westchester County, has acquired the majority interest and management of Washington Plaza Apartments at 1420 Centre Avenue in Pittsburgh, PA. The 24-story, 350,000-square-foot luxury apartment building will soon undergo extensive interior and exterior renovations to significantly enhance the property's high-end appeal.
Currently at 96 percent occupancy, Washington Plaza Apartments includes 390 studio, one bedroom, and two bedroom luxury units that range in size from 460 to 1180 square-feet. Residents enjoy unmatched views of the city, floor to ceiling windows, a 24/7 concierge service, the security of a controlled access building, and valet parking in a covered garage. Four retail spaces on the ground floor are occupied by a bar & grill, massage spa, hair salon, and dentist.
The 4.5-acre landscaped property supports a healthy lifestyle with a heated, lap-sized swimming pool; tennis courts; volleyball courts; 24-hour fitness center and sauna; walking path; and BBQ picnic areas. There is also a shuttle service available to downtown businesses as well as Oakland hospitals.
The renovations, which are slated to begin late this year, will establish Washington Plaza Apartments as one of the premier residential buildings in Pittsburgh. Faros Properties has retained Perkins Eastman, an international planning, design and consulting firm based in New York, to complete all improvements. Common areas to be renovated include the lobby, resident lounge, business center, corridors, courtyard, fitness center, pool, and tennis courts. The units themselves will also be completely updated, including new kitchen and bathroom amenities.
"Perkins Eastman is among the top architecture and design firms in the world with extensive experience in luxury residential high rises," said Elliot Gould, managing partner, Faros Properties. "Their innovative designs and sustainable approach align with our vision for the property. We are thrilled to have them on board."
After a long history of success in the commercial arena, Washington Plaza Apartments is Faros Properties' first residential project. Plans are underway to purchase additional residential buildings nationwide as part of the firm's current investment strategy.
"We're focused on multi-family assets in urban and in-fill locations in addition to commercial properties in cities that have high concentrations of intellectual capital, strong fundamentals, and strong growth prospects," explained Jeremy Leventhal, managing partner, Faros Properties. The firm will seek additional direct and venture investment opportunities nationwide as they expand their portfolio, primarily distressed opportunities created from the economic downturn.
Faros Properties is located at 551 Fifth Avenue, Suite 413, New York, N.Y. and may be reached at 212.299.8700 or http://www.farosproperties.com. For more information on Washington Plaza Apartments, visit http://www.washingtonplaza.com.
***
About Faros Properties, LLC: Faros Properties, LLC is a New York-based real estate investment firm. The company currently owns and operates three commercial assets in Westchester County, NY and Fairfield County, CT, located at 555 Theodore Fremd Ave. in Rye, 120 Bloomingdale Rd. in White Plains, and Holly Pond Plaza in Stamford. Faros and its predecessor companies trace their roots to The Beacon Companies founded by Norman Leventhal and his brother in 1945. It has been active for more than six decades in the construction, development, acquisition, management, and financing of real estate internationally. Well-known developments in Boston (location of the family headquarters) include the Meridien Hotel, One Post Office Square, The Boston Harbor Hotel, Rowes Wharf, Center Plaza, South Station, and 75 State Street, among others.