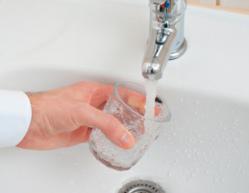 Homeowners utilizing private wells – who by EPA's estimates account for 15 percent of Americans – are responsible for testing, maintaining and ensuring the safety of well water.
Baltimore, MD (PRWEB) February 28, 2013
In an effort to help homeowners lead a healthier lifestyle and prolong the life of their plumbing systems, Chesapeake Plumbing, Inc. has expanded its services to include water analysis and water treatment.
Joining the list of companies who already offer water analysis in Maryland, Chesapeake Plumbing, Inc. will focus its efforts on two types of tests: common contaminants and bacteria.
The test for contaminants will cover water's pH, iron content and hardness and will be conducted at no cost. The test for bacteria will be offered at minimal cost to cover the expenses associated with sending water samples to the lab.
According to the U.S. Environmental Protection Agency (EPA), private well water, unlike water in public water systems, is not under EPA's authority. Therefore, homeowners utilizing private wells – who by EPA's estimates account for 15 percent of Americans – are solely responsible for testing, maintaining and ensuring the safety of well water.
"Although city residents may have some water issues as well, we specifically recommend well water users to test their water on a yearly basis," shared Paul Kingston, the owner of Chesapeake Plumbing Inc.
He also stressed the importance of conducting water analysis if water exhibits signs of contamination, such as reddish or greenish tint, foul smell or visible mineral deposits on the home's plumbing outlets: faucets, showerheads and toilets.
The Center for Disease Control and Prevention (CDC) suggests checking private water wells for "mechanical problems, cleanliness, and the presence of coliform bacteria, nitrates, and any other contaminants of local concern."
"It doesn't take much to contaminate your water supply: a simple disbalance of naturally occurring minerals and chemicals, such as calcium, magnesium or radon, can change water's taste and effects on the human body, as well as put more of a strain on household plumbing," added Kingston.
CDC points out many other sources of water pollution, such as malfunctioning or overflowing sewer lines and septic tanks, the usage of pesticides and fertilizers or other dangerous chemicals that may come in contact with the surface water.
"While health problems caused by contaminated well water are not very common in the U.S., damaged plumbing and appliances due to elevated water hardness is something many homeowners have encountered in their lifetime," said Kingston.
He explained that unbalanced pH and high content of minerals in water leads to lime scale buildup inside pipes and water-handling appliances. Over time, this buildup may cause a wide range of problems from leaky pipes to water passage blockages.
"The most important step is to identify the problem, which is why water analysis is so useful," pointed out Kingston, "after we find out which chemicals or bacteria are causing disbalance, we suggest an appropriate Maryland water treatment."
According to CDC, public drinking water systems undergo a multi-step filtration that starts with coagulation and ends with disinfection and fluoridation in some cases. Private water supplies are not subject to such rigorous filtration, which is why custom water treatment solutions may significantly improve water quality.
About Chesapeake Plumbing, Inc.
Founded in 1990, Chesapeake Plumbing, Inc. specializes in installation and service of full plumbing systems, well and sump pumps, water heaters and boilers, sewer inspection, and many other plumbing-related planned and emergency services. Maryland-based and family-owned company, Chesapeake Plumbing, Inc. performs more than 200 plumbing system installations a year serving Maryland counties to the West of Chesapeake Bay. For more information, please visit http://www.chesapeakeplumbing.com.