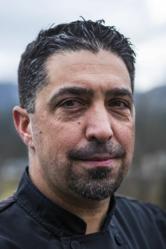 We'll be bringing specials, menu items and events that will be totally outside the box while maintaining the professional service and quality food that Crab Cakes has earned a reputation for over these past 15 years
Oakhurst, CA (PRWEB) February 26, 2013
More changes are happening at the popular Oakhurst seafood restaurant Crab Cakes, which recently relocated to a much larger location.
Restaurant owner Roman Zabicki announced the hiring of Visalia native L. Brian Velazquez as the new Executive Chef for the restaurant. Velazquez will oversee the The Central Valley People's Choice Award & AAA Three-Diamond Award winning restaurant as well as off-site catering.
"I'm happy that Laura and Roman have brought me on to utilize my talent and experience to take Crab Cakes Restaurant and Yosemite Catering to the next level at their new location," said Velazquez.
"We'll be bringing specials, menu items and events that will be totally outside the box while maintaining the professional service and quality food that Crab Cakes has earned a reputation for over these past 15 years," he said.
Chef Velasquez has more than 20 years of experience in high-intensity culinary production and upscale cultural dining.
"Chef Velasquez has taken the art of dining at Crab Cakes to a new level by using his creativity and local ingredients. His 'attitude of cooking' embraces freshness, flavor, method, and a deep passion for what he's cooking at the moment. And whatever the moment, he creates an out-of-the-box dining experience," said Zabicki.
"His delicious "freedom" approach is evident in the catering and special-event menus, as well as the dining at Crab Cakes Restaurant," he added.
Chef Velasquez was born and raised in Visalia where he worked at his family restaurant. He has three sons, two residing in Hawaii and one in Visalia. Chef began his culinary career at the age of 13, working in his grandmother's kitchen. He served in the United States Marine Corps as a Communications Radio Operator while in the Gulf War.
His education based at the Le Cordon Bleu in Sacramento, including the ABC Bartending School in Rancho Cardova.
"Chef Velasquez is highly interactive with the front of the house guests and the public. In addition to his approach, technique, and fun personality service plays a vast role in his culinary practices," said Zabicki.
So far, Oakhurst has responded well to the new addition, making Velazquez that much happier with his new job.
"The community has really welcomed me here. It's like a breath of fresh air. To be able to go out and talk to the guests is refreshing," he said.
To learn more about the restaurant, visit http://www.crabcakesrestaurant.com or call 559-641-7667 for reservations.