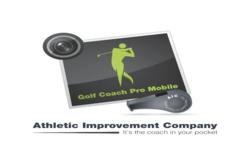 South Florida (PRWEB) February 28, 2013
Athletic Improvement Company is launching its Golf Coach Pro Mobile App on the popular crowd-funding platform on Indiegogo.com. The app is a "golf coach in your pocket" and is priced at $4.99 for iPhone or iPad. The funding campaign runs Feb. 19- March 21, 2013. Investors "perks" include a free copy of the app, non-breakable golf tees, golf towels, and 24 PGA/LPGA swings.
Golf Coach Pro Mobile Golfers enables golfers to improve their swings, by recording, analyzing, and comparing their performance instantly during practice or by comparing themselves to pro players' swings, which can be downloaded separately. It can be used anywhere, indoors or on the driving range. The app also features a built in range finder, which uses the built in optics of the iPhone.
Athletic Improvement Company CEO Ryan Ditthardt says, "The success of our first app, the iRake Baseball Swing Trainer, showed us the enormous demand for this type of mobile sports app. Any golfer knows you can spend your whole life perfecting your game- well we aim to help you do that faster! With the popularity of golf at an all time high, we're confident our app will make a lot of people happy."
Golf Coach Pro Mobile users can compare their own swings side by side with professional players giving them the ability to learn from the pros and develop a more consistent swing. Golfers of all ages and handicaps can use the app, and if you have an iPhone, you definitely need this app.
The Golf Coach Pro Mobile app is priced at $4.99 from the app store in the Sports section.
Golf Coach Pro Mobile Key Features:

Range Finder
Record New Swing
Analyze a Swing
Compare Swing
Purchase Pro Swings
Share Swings
View Swing History
Link:
http://igg.me/p/309842/x/2033176
Device Requirements:
iPhone 4 or higher
iPad 2 or higher
Pricing and Availability:
The Golf Coach Pro Mobile app is $4.99 (USD) for the iPhone and iPad. It is available worldwide exclusively through the App Store in the Sports category.
About Athletic Improvement Company:
Head quartered in South Florida, Athletic Improvement Company is developing Apps for Sports.
Contact: (ryan(at)aicapps(dot)com/954-634-5072)
Apple, the Apple logo, iPhone, iPad and iPod are registered trademarks of Apple Computer Inc. in the U.S. and/or other countries.
###