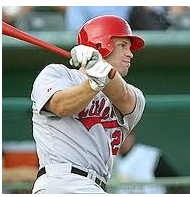 Answer this this trivia question and earn free drills or a discount on online lessons AND be entered in to win a Kindle Fire
(PRWEB) February 28, 2013
Last month, Athletic Science successfully launched online softball coaching and is now ready to launch online baseball coaching. Currently, Athletic Science has recruited 15 baseball coaches from across the United States. Elite baseball coaches offer video baseball swing analysis, baseball pitching analysis and fielding instruction from any portable device or personal computer. During the softball launch, youth coaches and parents utilized online coaching as a way to protect young athletes from injury. See our recent press. After the softball launch RINGOR picked up the story in their blog and asked the question, "Is Online Coaching a Good Idea?" http://www.ringor.com/en/blog/softball/58-is-online-coaching-a-good-idea
Joel Orcutt, founder of Athletic Science, responds, "Most developing youth athletes have yet to develop total body awareness. That means that they can't always feel the difference between right and wrong on their own. Because we are all visual learners, video offers the best way to process and understand the difference between acceptable and potentially dangerous variations in athletic mechanics. Once athletes understand their areas of development, Athletic Science helps them span the gap of understanding and improvement by offering drills that target specific areas of development; allowing athletes to perform their best and prevent injury."
Now, youth coaches, parents and athletes have a place to upload their video and get proper instruction from a team of carefully screened coaches. Besides video analysis, the Athletic Science instructors have uploaded fielding and pitching drills that can help athletes of any age. Now, a young athlete can purchase the same drills that helped professional player Josh Horton play Division 1 baseball and get recruited to play shortstop for the A's. In addition, Royce Ring, a professional baseball pitcher who pitched in the bigs with the Mets, Padres, Braves and Yankees, has uploaded his favorite pitching drills. If an athlete likes any instructional drills, an athlete can also send in game time or practice pitching video to Coach Ring. Coach Ring will make sure that the athlete is implementing the drills properly and will provide a video breakdown of the athletes pitching mechanics. The experienced athlete looking for a more in-depth breakdown can submit a lesson to Conor Brooks. Coach Brooks is a previous professional player, successful college athlete and a current professional MLB scout. Conor can provide the guidance needed for an athlete who wants to play college baseball or tryout for the major leagues. All drills and lessons can be submitted and purchased from a smartphone, tablet or computer and can be viewed on any device. Now, young baseball players can study fielding, pitching or hitting drills and receive any type of baseball instruction on their phones instead of playing video games.
Athletic Science is running a "Get Ready for Spring" contest. Every athlete that enters the contest will receive credits which can be redeemed for up to four drills or can be used toward a lesson with any instructor. Besides credits in the system, all athletes will be entered in to win a Kindle Fire, so they can join the Athletic Science "on the road " online baseball team. In order to enter the contest and receive free credits, athletes need to register, create a profile and answer this month's Athletic Science trivia question. Any athlete that tweets the right answer to @AthleticScience or responds on the wall at Facebook will be automatically entered in the "Get Ready for Spring" contest. This month's trivia question is, "Who is our newest baseball coach that was recruited in the 6th round of the famous Moneyball draft?" Athletes can find this answer by logging into to Athletic Science and searching through our list of instructors. The answer is available within the correct instructor's bio. In order to find out the winners of the Kindle Fire all athletes need to like Athletic Science on Facebook or follow us on Twitter.
Founded in October 2012, Athletic Science is the only website that enables kids to work with carefully screened coaches without any geographical or schedule restrictions. Athletic Science can provide elite sports instruction from coaches spanning 12 sports in 16 states. Anyone can sign up for Athletic Science and connect with people they know, elite coaches and successful athletes in a trusted environment. Athletic Science is a privately owned company in Boston, MA.