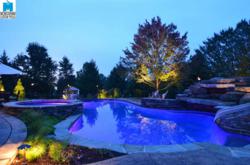 Custom pool with waterfall, grotto, swim up bar, and waterslide
(PRWEB) February 27, 2013
Monogram Custom Pools has received an award for Professional Excellence from the Lehigh Valley Builder's Association for their custom salt water swimming pool in Lehigh County. This particular pool design includes a swim up bar, grotto, waterslide, and full waterfall. This "specialty project" award is only given to members of the builders' association how are in good standing and have zero complaints.
Monogram Custom Homes and Pools has received 40 awards over the past 20 years and is the most award winning custom home and pool builder in the Lehigh Valley. They've received national recognition for their "hassle free" pools and unique pool and home designs. They also are the only Lehigh Valley pool builder to ever win the Better Business Bureau's award for "Excellence in Customer Service," which is only given to companies with zero complaints at the Better Business Bureau.
Monogram Custom Homes and Pools continues to be the market leader for custom pools and homes in the Lehigh Valley, Upper Saucon, Pennsylvania area.
For more information, contact Monogram Custom Homes and Pools at 610-282-0235